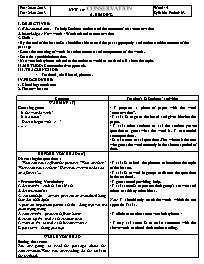 I. OBJECTIVES:
1. Educational aim : To help Students understand the content of text :conservation
2. knowledge : - New words : Words related to conservation
3. Skills :
- By the end of the lesson Sts should be able to read the passage properly and understand the content of the passage
- Guess the meaning of words based on contexts and components of the words.
- Scan for specific information.
- Use vocabulary items related to the undersea world to read and talk about the topic.
II. METHOD: Communicative approach.
III. TEACHING AIDS:
- Textbook, chalkboard, pictures.
IV. PROCEDURES:
1. Checking attendance
2. The new lesson
Bạn đang xem tài liệu "Giáo án English 10 - Unit 10: Conservation - A.Reading - Năm học 2012-2013", để tải tài liệu gốc về máy bạn click vào nút DOWNLOAD ở trên
Pre : 20.01.2013
Tea: 24.01.2013
UNIT 10: CONSERVATION
A. READING
Week: 4
Syllable Period: 63 
I. OBJECTIVES:
1. Educational aim :	 To help Students understand the content of text :conservation
2. knowledge :	- New words : Words related to conservation 
3. Skills :
- By the end of the lesson Sts should be able to read the passage properly and understand the content of the passage
- Guess the meaning of words based on contexts and components of the words.
- Scan for specific information.
- Use vocabulary items related to the undersea world to read and talk about the topic. 
II. METHOD: Communicative approach.
III. TEACHING AIDS:
Textbook, chalkboard, pictures.
IV. PROCEDURES:
1. Checking attendance
2. The new lesson
Contents
Teacher's & Students' activities 
WARM UP (5')
Guessing game
+ Is the word a verb?
+ Is it a noun?
+ Does it begin with "c" ? 
- T prepares a piece of paper with the word "conservation".
- T asks Ss to go to the board and gives him/her the paper. 
- T asks other students to ask the student yes/no question to guess what the word is. T can model some questions.
- Ss take turns to ask questions. The winner is the one who guess the word correctly in the shortest period of time. 
BEFORE YOU READ (10')
Discussing the questions :
+ What can you see from the pictures? What are they? Where can you see them? Have you ever visited a zoo or a forest? ...
* Pre-teaching Vocabulary
1. destroy (v) : end sth, kill sb/ sth
2. destruction ( n ): 
3. costant(adj) : always present or available(không thay đổi, nhất định)
4. play an important part in sth (n) : đóng một vai trò quan trọng trong
5. conserve (v) : protect sth from harm
6. clean up (v) : make sth clean or neat 
7. worsen (v) : to make sth become worse, 
8. pass laws : thông qua luật
- T asks Ss to look the pictures to introduce the topic of the lesson. 
- T asks Ss to work in groups to discuss the questions in the textbook.
- T goes around providing help.
- T asks some Ss to present their group's answers and others to add any other ideas.
Note: T should only teach the words which do not appear in Task 1.
- T elicits or teaches some vocabulary items :
- T may ask some Ss to make sentences with the above words to check their understanding.
WHILE YOU READ
Setting the scene
You are going to read the passages about the conservation. While you are reading, do the tasks in the textbook.
Task 1. Matching based on word guessing (8')
Instruction: You are required to match the word in the column A with a suitable definition in column B. 
+ eliminate (v)
+ circulation(n)
+ run- off ( phr.v)
+ hydroelectric(n)
* Answers :
1. c 
2. a
3. d
4. b
Task 2 : True or False (10')
Instruction: You are to read the passage again and decide whether the statements are True (T) or False (F).
* Answers:
1. T
2. T
3. T
4. T
5. F (without plants, most water would run off as soon as it falls. Rapid run-off would cause floods )
6. F (we can stop worsening the problems).
Task 3: Choosing the main idea for each paragraph 
Instruction: You are to read the passage again and choose the most suitable main idea for each paragraph. (5')
A. 3
B. 4
C. 2
- T writes these words on the board :
- Then T instructs Ss to read the passage quickly and stop at the lines that contain these words to guess their meanings.
- Ss guess the meaning of the words based on the contexts in the sentences and the components of the words. For example, to guess the meaning of eliminate Ss read the sentence 2 in paragraph A .Then based on this sentence and other words in the first sentence (loss, destroy) Ss can guess the meaning of this word.
- T checks that Ss' understanding by asking them to provide the Vietnamese equivalents to the words.
- T asks Ss to work individually to do the task
- T goes around exchanging their answers with other Ss.
- T asks Ss for their answers and tells them to explain their choices.
- T instructs Ss to use some strategies to do the task:
- T asks ss to work individually to do the task.
- Ss change ideas and peer correction.
- T feedbacks and gives the correct answers :
- T instructs Ss to use some strategies to do the task:
- T asks ss to work in pairs to do the task.
- T goes around offering help when necessary.
- Ss change ideas and peer correction.
- T feedbacks and gives the correct answers 
AFTER YOU READ (5')
Instruction: You are required to work in groups to discuss the questions in the textbook.
- T divides Ss into 6 groups: 1, 2, 3, 4, 5 and 6 .
T asks group 1 and 2 to discuss question 1, group 3 and 4 question 3, and group 5 and six question 3.
- T goes round to offer help.
- T calls on some groups to report their ideas to the class.
- T gives feedback.
Wrapping up (2')
- T summarizes the main points 
- T asks Ss to learn by heart all the new words and make sentences with them as homework. 
* Comments & supplement:

Tài liệu đính kèm:
A.reading.doc