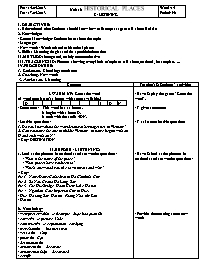 I. OBJECTIVES:
1. Educational aim: Students should know how to listen passage to talk about Hoi An
2. Knowledge:
- General knowledge: Students learn about the topic
- Language:
- New words: Words related to historical places
3. Skills: Listening for gist and for specific information
II. METHOD: Intergrated, mainly communicative
III. TEACHING AID: Pictures showing every kinds of topic to talk about, textbook, lesson plan .
IV. PROCEDURES:
1. Settlement: Checking attendance
2. Checking: New words
Bạn đang xem tài liệu "Giáo án English 10 - Unit 16: Historical Places - C.Listening - Năm học 2012-2013", để tải tài liệu gốc về máy bạn click vào nút DOWNLOAD ở trên
Pre : 14.04.2013
Tea: 17.04.2013
Unit 16: HISTORICAL PLACES
C/ LISTENING
Week: 14
Period: 96
I. OBJECTIVES:
1. Educational aim: Students should know how to listen passage to talk about Hoi An
2. Knowledge:
- General knowledge: Students learn about the topic
- Language:
- New words: Words related to historical places
3. Skills: Listening for gist and for specific information
II. METHOD: Intergrated, mainly communicative
III. TEACHING AID: Pictures showing every kinds of topic to talk about, textbook, lesson plan.. 
IV. PROCEDURES: 
1. Settlement: Checking attendance
2. Checking: New words
 3. New lesson: Listening
Contents
Teacher's & Students' activities 
I. WARM UP: Guess the word
(A word consists of 11 letters with some available.)
D
I
O
N
- Some cues: + This word has 11 letters.
 + It begins with a letter D.
 + It ends with the suffix -ION.
- Lead-in questions:
1. Do you know about the world cultural heritage sites in Vietnam? 
2. Can you name the one in Middle Vietnam, its name begins with an H and ends with an N? 
* Key: DESTINATION
II. BEFORE - LISTENING:
a. Look at the pictures in textbooks and answer the questions: 
 - What is the name of the place?
 - What places have you been to?
 - Which one would you like to visit most and why? 
* Key: 
Pic 1: Notre Dame Cathedral in Ho Chi Minh City
Pic 2: Bo Nau Grotto, Ha Long Bay 
Pic 3: The Huc Bridge, Hoan Kiem Lake, Ha noi
Pic 4: Ngo Mon Gate, Imperial City in Hue.
- Hue, Ha long Bay, Hoi An, Phong Nha, My Son
- Hoi An
b. Vocabulary:
- well-preserved (a) ® Example : được bảo quản tốt
- carve (v) ® picture : khắc
- construct (v) ® explanation : xây dựng
- merchant (n) = businessman
- vessel (n) = ship
- pillar (n): Cột
- destination (n)
- ornament (n) = decorate
- ornamental (adj) = decorated
- certify
- ancient (adj) = old
- formerly (adv) = before
- major (adj) = main
- trading (n) = business
- tile-roofed (adj):
- recommend (v)
- precious (adj) = valuable
- Assembly Cantonese Chinese Congregation: Hội quán Quảng Đông (Được Hoa Kiều Quảng Đông xây dựng vào năm 1855, đầu tiên thờ Thiên Hậu, sau đó thờ Quan Công. Việc sử dụng các chất liệu gỗ, đá trong keets cấu chịu lực đã đem lại cho Hội quán vẻ đẹp đường bệ, rất độc đáo)
- Tan Ky House: Nhà Tấn Ký:
(Được xây dựng cách đây gần 200 năm, có kiểu kiến trúc đặc trưng của loại nhà phố Hội An với nội thất chia làm nhiều gian, mỗi gian có chức năng riêng. Mặt tiền nhà thông là nơi để mở cửa hiệu buôn bán, mặt sau thông với bến sông để làm nơi xuất nhập hàng hóa. Nhà được xây dựng bởi những vật liệu truyền thống và được tạo tác bởi những người thợ địa phương nên vừa mang nét riêng nhỏ nhắn, thanh thoát, ấm cúng, vừa thể hiện được sự giao lưu với phong cách kiến.)
- Japanese Covered Bridge: Cầu Nhật Bản/ Chùa cầu/ Lai viễn Kiều.
III. WHILE - LISTENING:
a. Task 1(textbook): Listen and choose A, B or C that best completes the sentences:
* Key: 
1. B 2. A 3. C 4. C 5.C
b. Task 2 (textbook): Listen and answer the following questions 
Part 1: " The ancient town ...................designers"
Part 2: "One of the main ...................... Cultural Heritage site" 
* Key:
1. Its lies on the Thu Bon River, 30 km south of Da Nang.
2. It was known as the major trading centre in Southeast Asia between the 16th and 17th centuries.
3. Hoi An is now famous for its old temples, pagodas, small tile-roofed houses and narrow streets.
4. They were made of wood and their pillars were carved with ornamental designs.
5. It is 153 years old.
6. It was built nearly two centuries ago.
7. The house now looks almost exactly as it did in the early 19th century.
8. In 1999.
IV. POST - LISTENING:
 · its location and roles in the past
 · its attractive characteristics at present
 · its main tourist attractions and their features
Homework:Set home work:
- Have Ss play the game "Guess the word".
- T gives some cues
- T asks some lead-in questions
- Have Ss look at the pictures in textbooks and answer the questions:
- Provide the meaning some new words 
- Have Ss work in pairs
- Have Ss read the MCQ for a few minutes.
- Have Ss guess the answers.
- Have Ss listen the text twice.
- Have Ss discuss the answers in pairs.
- T gives feedback
- T divides the class into groups of 4 .
- The text is divided into 2 parts: 
- T turns on the part 1, asks the groups to listen and answer the questions 1® 4. 
- T does the same for the part 2.
- Have Ss listen the whole text for checking.
- T gives feedbacks.
- Have Ss work in 3 groups to talk about the ancient town of Hoi An, using the following cues:
- Vocabulary - Prepare Unit 16: Lesson 4: Writing

Tài liệu đính kèm:
C.doc