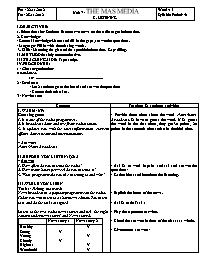 I. OBJECTIVES:
1. Education aim: Students listen to two news on the radio to get information.
2. Knowledge:
- General knowledge: Listen and fill in the gaps, answer the questions.
- Language: Fill in with the missing words.
 3. Skills: Listening for gist and for specific information. Gap- filling.
II. METHOD: Mainly communicative.
III. TEACHING AIDS: Tape script.
IV. PROCEDURE:
1 / Class organization:
Attendance:
10: .
2 / Oral test:
 - Let 2 students go to the board and answer the questions
 - Correct their mistakes.
Bạn đang xem tài liệu "Giáo án English 10 - Unit 7: The Mas Media - C.Listening - Năm học 2012-2013", để tải tài liệu gốc về máy bạn click vào nút DOWNLOAD ở trên
Pre : 22.11.2012
Tea: 28.11.2012
Unit 7 : THE MAS MEDIA
C. LISTENING
Week: 15
Syllable Period: 41 
I. OBJECTIVES:
1. Education aim: Students listen to two news on the radio to get information.
2. Knowledge:
- General knowledge: Listen and fill in the gaps, answer the questions.
- Language: Fill in with the missing words. 
 3. Skills: Listening for gist and for specific information. Gap- filling.
II. METHOD: Mainly communicative.
III. TEACHING AIDS: Tape script.
IV. PROCEDURE:
1 / Class organization: 
Attendance: 
10: ...................................................................
2 / Oral test: 
	 - Let 2 students go to the board and answer the questions
	 - Correct their mistakes. 
3 / New lesson:
Contents
Teacher's & students' activities
I. WARM- UP:
Guessing game
1. It is one of the radio progammes.
2. It broadcasts daily and live from radio station.
3. It updates you with the latest information, current affairs domestically and internationally.
* Answer:
News/ News Broadcast
II. BEFORE YOU LISTEN: Q& A
* Answer
1. How often do you listen to the radio?
2. How many hours per week do you listen to it?
3. What programme do you like listening to and why?
III. WHILE YOU LISEN
Task 1- Ticking the words
News broadcast is a popular programme on the radio. Today you will listen to a short news edition. You listen to it and do the tasks assigned
Listen to the two radio news stories and tick the right column under news story 1 and News story 2.
News story 1
News story 2
Healthy
Strong
Young
Cloudy
Highest
Wonderful
V
V
V
V
V
V
Task 2- Gap- filling
News story 1 (Heavy rain causes floods all over the country)
1. has caused floods 2. have left their home
3. have risen 4. two meters
5. has stopped 6. cloudy
News story 2 (90-year-old American woman climbs Mount Whitney)
1.twenty-third 2.4,418 3.California 4.wonderful 5.young and healthy
Task 3- Answering Questions
* Answer
1. Heavy rain has caused floods all over the country during the night.
2. Because rivers have risen.
3. The old woman has climbed Mount Whitney twenty- three times.
4. Because it has kept her young and healthy.
IV. AFTER YOU LISTEN:
- Provide three clues about the word News/ news Broadcast. Ss have to guess the word. If Ss guess the word in the first clues, they get 30 points, 20 points in the second a clue and 10 in the third clue.
- Ask Ss to work in pairs and ask and answer the questions:
- Gather ideas and introduce the listening.
- Explicit the items of the news.
- Ask Ss to do Task 1
- Play the tape once or twice.
- Check the answers in front of the class as a whole.
- Give correct answers:
- Let Ss read two news stories carefully and have the guess of the missing words. Play the tape and ask Ss to fill in the missing words.
- Notice Ss to catch the exact word(s) for each bland.
- Call on some Ss to read completed stories. Ask for comments from other Ss.
- Pause the tape when necessary.
- Feedback and give correct answers:
- Ask Ss to work in pairs and answer the question in the book.
Note: Ss are encouraged to do the task without looking back to the stories on page 77. However, Ss can look back if necessary.
- Call on some Ss to read their answers aloud in front of the class.
- Ask Ss to work in group and use their own words to tell other members about one of the two news stories.
- Call on some Ss to present the story in front of the class.
- Ask for comments from other Ss. 
- Make necessary corrections.
4. Consolidation: Summaries the main points.
5. Homework: Assign homework

Tài liệu đính kèm:
C.Listening.doc