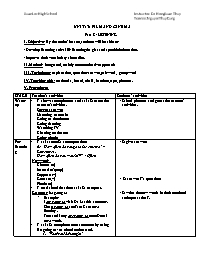 Part C: LISTENING
I. Objective: By the end of lesson, students will be able to:
- Develop listening sub-skill: listening for gist and specific information.
- Improve their vocabulary about film.
II. Method: integrated, mainly communicative approach
III. Techniques: explanation, question-answer, pair-work, group-work
IV. Teaching aids: textbooks, board, chalk, handout, tape, pictures.
V. Procedure:
Bạn đang xem tài liệu "Giáo án Tiếng Anh Lớp 10 - Unit 13: Flim and cinema", để tải tài liệu gốc về máy bạn click vào nút DOWNLOAD ở trên
UNIT 13: FILM AND CINEMA
Part C: LISTENING
I. Objective: By the end of lesson, students will be able to:
- Develop listening sub-skill: listening for gist and specific information.
- Improve their vocabulary about film.
II. Method: integrated, mainly communicative approach
III. Techniques: explanation, question-answer, pair-work, group-work
IV. Teaching aids: textbooks, board, chalk, handout, tape, pictures.
V. Procedure:
STAGE
Teacher's activities
Students' activities
Warm-up
T shows some pictures and asks Ss name the name of activities.
Suggest answer: 
Listening to music
Going to the cinema
Going dancing
Watching TV
Chatting on the net
Going picnic
Ss look pictures and guess the name of activities.
Pre-listening
T asks some Ss some questions
Ex: How often do you go to the cinema? – Sometimes.
How often do you watch TV? - Often
New word:
Cinema (n)
Instead of (prep)
Suppose (v) 
Guess (n,v)
Picnic (n)
T read aloud first then asks Ss to repeat.
Grammar: be going to 
Example:
I am going to visit Da Lat this summer.
She is going to see Tam Cam next Sunday.
Tom and Jerry are going to meet Donal next week.
T asks Ss complete some sentences by using Be going to - to check understand.
What/you/do/tonight?
He/not/drink so much better.
Lan/clean/her bedroom.
Ss give answers
 Ss answer T's questions 
Ss write the new words in their notebook and repeat after T.
Ss learn the structure and complete the sentences.
Suggest answer:
What are you going to do tonight?
He is not going to drink so much beer.
Lan is going to clean her bedroom.
While-listening
Task 1: Listen to the dialogue and answer the questions
What are Lan and Huong planning to do together? 
T asks Ss listen to answer the question above.
Task 2: Listen again and write their plans for the next week on calendar.
T asks Ss listen carefully to get information and write out the calendar in book. Then compare the answer with their friends.
T invites some Ss give answers, and T check.
Check by asking some questions:
What's Huong going to do in ?
What's Lan going to do in ?
T asks Ss work in pair in 1minute to answer the question: On what day can they meet?
Ss listen one time and answer the question
Suggest answer: They are going to the cinema.
Ss listen again and write the answer in the calendar on their book.
Compare the answer
Give answer
Work in pair and discuss the question to find out the answer
Suggest answer: Huong and Lan can meet on Tuesday.
Post-listening
T asks Ss work in pair and talk about Lan and Huong's plan for the next week.
T invites some Ss report Lan and Huong's plan for the next week.
Work in pair and practice with their partners
Report the Lan and Huong's plan for the next week.
Homework
T asks Ss talk about their plan for the next week.
Repair the new lesson
Listen to T.
	 Xuan Loc, 13th March 2018
 Instructor	 Trainee
Do Hong Xuan Thuy	 Nguyen Thuy Dung