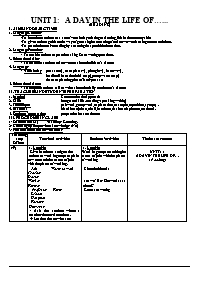 I. AIMS AND OBJECTIVES:
1. Language Content:
 -To introduce students to a set of vocabulary relating to farming, life in the countryside.
 -To give students guidance in way of guessing the meaning of unknown words using contextual clues.
-To practise intensive reading by scanning for specific information.
2. Language Function:
 - To enable students to practise asking & answering questions.
3. Educational Aim:
 - To teach the students to know more about the life of a farmer
4. Language :
 - Vocabulary peasant (n) , transplant (v) , plough (v) , harrow (v) ,
 lead buffalo to the field (exp), pump water (exp)
 do transplanting/ plot of land/ peasant
5. Educational factor
 - To help the students talk or write about the daily routines of a farmer
UNIT 1: A DAY IN THE LIFE OF...
(READING)
I. AIMS AND OBJECTIVES:
1. Language Content:	
	-To introduce students to a set of vocabulary relating to farming, life in the countryside.
	-To give students guidance in way of guessing the meaning of unknown words using contextual clues.
-To practise intensive reading by scanning for specific information.
2. Language Function:
	- To enable students to practise asking & answering questions.
3. Educational Aim:	
	- To teach the students to know more about the life of a farmer
4. Language :
	- Vocabulary	 peasant (n) , transplant (v) , plough (v) , harrow (v) , 
	 lead buffalo to the field (exp), pump water (exp)
	 do transplanting/ plot of land/ peasant
5. Educational factor	
	- To help the students talk or write about the daily routines of a farmer 
II. TEACHER'S AND STUDENTS' PREPARATION
1. Method	Communicative Approach
2. Skills 	Integrated skills. (reading-speaking-writing)
3. Techniques 	pairwork, groupwork, explanation,example,repetition,synonym,
4. Materials	blackboard, chart,chalk, handouts, flash cards, picture, textbook.
5. Students' preparation	prepare the lesson at home
III. PROCEDURE IN CLASS
1- Stabilization 	(2')	 Warm up: Greeting.
2- Checking up the previous knowledge : (No) 
3- Presentation of the new materials:
Teaching steps
&Time
Teacher's activities
Students' activities
The lesson content
 (5')
1. Lead-in
- Gives handout 1 and gets the students to work in groups explain how to match the names of jobs with the places of working.
Job	Where to work
 Teacher
 Doctor
 Worker
 Farmer
 Professor	Farm
School
Hospital
Factory
University
 - Asks the students where a teacher/doctor/farmer does .
à Leads to the new lesson.
1. Lead-in
-Work in groups matching the names of jobs with the places of working
- Close their books
- answer " He/ She works at a school."
- Go on answering
UNIT 1 :
A DAY IN THE LIFE OF
(Reading)
7'
2. Pre- Reading
- Preteaches some key words& phrases to help the students master the reading passage more easily.
+ lead the buffalo to the field
	 (picture)
+plough (v)	 (explanation)
+ harrow (v)	 (translation)
+ pump water (v) (mine)
+ do transplanting (picture)
+ plot of land (translation)
+ peasant 	 (synonym)
-Checks students' words by using the game " Slap the board"
- Asks them to close their books and predict what Mr. Vy does and what Mrs. Tuyet does."
(Handout 2)
Their activities	Mr. Vy	Mrs. Tuyet
1. boiling water
2. preparing meals
3. leading the buffalo to the field
4.taking care of children
5. transplanting
6. ploughing and harrowing the plot of land
7. drinking tea and chatting with friends 	
- Asks Ss to check the information, read the passage
2. Pre- Reading
-Listen to the teacher's guiding questions
- Pay attention and take notes
- Play the game " Slap the board"
-(books closed) guess what Mr. Vy and Mrs Tuyet do
- Read the chart and tick into the right column 
- Open books, read the passage
1. Pre- Reading
a. Vocabulary
+ lead the buffalo to the field
+plough	(v)
+ harrow	(v)
+ pump water	(exp)
+ do transplanting	(exp)
+ plot of land	(n)
+ peasant = farmer 	(n)
b. Reading comprehension
Their activities	Mr. Vy	Mrs. Tuyet	before reading	After reading
1. boiling water
2. preparing meals
3. leading the buffalo to the field
4.taking care of children
5. transplanting
6. ploughing and harrowing the plot of land
7. drinking tea and chatting with friends	
18'
3.While-Reading
a/ Task 1:
- Has Students open their books and read silently in 3 minutes 
- Asks Ss to work individually, then in pairs
- Listens & gives feedback
 b/ Task 2:
- Asks students to answer in pairs
- Listens to students' answers & gives feedback
3.While-Reading
a/ Task 1:
- Read silently 
(skimming skill)
Work individually, then in pairs
b/ Task 2:
- Read the passage again, answer the questions in pairs, one asks and one answers.
- Listen to the teacher's feedback
2.While-Reading
a/ Task 1
(Choose the best answers)
1. C (goes off = rings)
2. C (to get ready = to prepare)
3. A (chat = talk in a friendly way)
4. A (contented with = satisfied with)
b/ Task 2
(Answer the questions)
1. He's a peasant/ farmer.
2. He gets up at 4:30, goes down the kitchen, boils some water for morning tea
3. In the morning, he ploughs his plot of land, drinks tea and smokes tobacco during his break.
 4. In the afternoon, they repair the banks of the plot of land. He pumps water, she does the transplanting
5. Yes, they are. Because they love working and they love their children.
6'
4.Post-Reading
- Divides class into small groups to discuss about Mr.Vy's and Mrs.Tuyet's
- Gets some representatives to demonstrate
- Gives marks or remarks
4.Post-Reading
- Discuss about Mr.Vy's and Mrs.Tuyet
- Representatives of each group demonstrate
3.Post-Reading
"Discuss about Mr.Vy's and Mrs.Tuyet's daily routines"
Consolidation 
(5')
- Asks students to work in pairs to check what they predict (Handout2) the one previously done in the pre-reading stage.
-Reminds the content of the lesson 
- Emphasizes some key words
-Work in pairs checking what they predict in the pre-reading stage.
- Remember the content of the lesson
Homework (2')
-Asks Students to write a short passage(about 80 words) about daily routines of a farmer or their parents . 
- write a short passage
Self evaluation:
UNIT 1: A DAY IN THE LIFE OF...
(SPEAKING)
I. AIMS AND OBJECTIVES:
1. Language Content:
	- To help them practise asking for and giving information fluently.
2. Language Function
- To encourage the students to ask for and give information from a timetable & help them talk 	 about daily activities.
- To improve the students' speaking skill.
3. Educational Aim	
	- To make students aware of their own daily routine 
4. Language 
	- Vocabulary	: all words related to telling time, subjects, etc
5. Educational factor	
	- To help the students ask and answer about their personal information and daily routine
II. TEACHER'S AND STUDENTS' PREPARATION
1. Method	Communicative Approach
2. Skills 	Speaking, listening
3. Techniques 	Explanation, substitution, pair work, group work
4. Materials	textbooks, cassette player, chalks, board
5. Students' preparation	prepare the lesson at home
III. PROCEDURE IN CLASS
1- Stabilization 	(1')	 Warm up: Greeting.
2- Checking up the previous knowledge : (5')
	-Asks the students some questions about Mr. Vy's Mrs. Tuyet's daily activities.
	- Listens and gives marks/ remarks
3- Presentation of the new materials:
Teaching steps
&Time
Teacher's activities
Students' activities
The lesson content
4'
1. Lead-in
 -Divides the class into 8 groups and asks them to write down the names of subjects they learn at school. The group that has more subjects and finishes the task the fastest will win the game.
-Checks the students' answer and leads to the new lesson.
* Suggested answer: 
1. Civic education 7. Technology
2. Maths 8. Physics
3. Literature 9. Biology
4. Chemistry 10. History
5. Geography 11. Informatics
6. Physical education
- Asks students what subjects they have on Monday/? 
1. Lead-in
-Work in groups writing down the names of subjects they learn at school.
- Remember all these words
- Make a list of subjects as much as possible
-Answer the teacher's questions.
UNIT 1 :
A DAY IN THE LIFE OF
(Speaking)
7'
2. Pre- speaking :
- Gives a chart and asks Ss to match a number in A with a suitable phrase in B
- Asks Ss to work in pairs
- goes around to help Ss
- Has a check
- Revises about telling time
- Confirms the way of telling time in Practice
2. Pre- speaking :
- Match a number in A with a suitable phrase 
 in B
- Work in pairs
- Recall the telling time
I. Revision of telling time
A	B
a. 7:15
b. 8:05
c. 8:55
d. 9:45
e. 10:40
f. 17:00
g. 6:00
h. 18:30	1. a quarter to ten
2. five to nine
3. five past eight
4. a quarter past seven
5. twenty to eleven
6. half past six p.m
7. 5 o'clock p.m
8. 6 o'clock a.m
* Suggested answer :
a. 4 b. 3 c. 2 d. 1 e.5 f.8 g.6 h.7 
20'
3. While - speaking
a/ Task 1
- Has Students close books 
- Introduces Students the situation
- Gives a model conversation (with a good student)
- Asks Ss to open the books by looking at the timetable in the textbook (Handout 1)
- Guides Ss to practise in pairs 
- Goes around for help
- Checks before class
 b/Task 2
- Has Students look at the pictures in textbook (Handout 2) and describe them
- Explains the requirement of Task 2
- Has Students work in groups of 3 or 4 Students)& Checks
c/Task 3
- Gets students to work individually to tell the classmates about their daily routine.
-Gives students some help .
- Calls on some students to talk about their daily routine 
- Gives remarks to help the students speak English naturally.
3. While - speaking
a/ Task 1
- Close books 
- Pay attention to the situation
- A good student practises with Teacher as a model
-Look at the timetable in the textbook (Handout1) and practise asking and answering questions with a partner.
- Practise before class. 
b/Task 2
- Look at the pictures in textbook (Handout 2) and describe them
- Pay attention to the requirement of Task 2
- Has students work in groups of 3or 4 students)
c/Task 3
- Work individually in some minutes to prepare some main ideas about their daily routine.
- Present in front of class.
-Listen to the teacher's remarks.
II. Practice
a/ Task 1 
(Ask & answer using the information from the timetable)
A: What time does Quan have Civic education lesson on Monday?
B: Quan has Civic education at a quarter past seven on Monday
A: What lesson does Quan have at a quarter past seven?
B: Quan has Civic education at a quarter past seven on Monday
b/Task 2
At 2.00 o'clock p.m, Quan gets up after taking a short nap. He studies his lesson at 14:15. He watches TV at 16:30. Then he goes to the stadium by bicycle at 17:00. There he plays football with his friends.
c/Task 3
"Tell your classmates about your daily routine"
Suggested cues :
-get up / 6a.m
- have breakfast/6.30a.m
-go to school / 6.45
-have English class / 7.45 a.m
5'
4.Post- speaking
- Gets some representatives to talk about their daily routine or Quan's& gives marks or remarks
4.Post- speaking
-Volunteer to speak in front of class
Homewor
3'
-Asks Ss to write a short passage about their own daily routine
- write a short passage
Self evaluation:
.
UNIT 1: A DAY IN THE LIFE OF...
(LISTENING)
I. AIMS AND OBJECTIVES:
1. Language Content:
	- To introduce students to a set of vocabulary relating to a cyclo driver
	-To enable students to enrich their knowledge .
2. Language Function:
	- To enable students to practise asking & answering questions.
3. Educational Aim:	
	- To teach Ss to know more about the li ... ques 	Explanation, using pictures, pairwork, groupwork
4. Materials	textbooks , chalks, sub-board
5. Students' preparation	prepare the lesson at home
III. PROCEDURE IN CLASS
1- Stabilization 	(1')	 Warm up: Greeting.
2- Checking up the previous knowledge : (5')
	- Asks the students to tell about their daily routine. 
3- Presentation of the new materials:
Teaching steps
&Time
Teacher's activities
Students' activities
The lesson content
4'
1. Lead-in 
-Asks the students some questions about their Summer holiday last year ,such as, 
(1) Where did you spend your summer holiday last year ?
(2) What did you do during your holiday?
(3) Did it make you bored /happy/ frightened /? 
à Leads to the new lesson.
1. Lead-in 
Listen to the teacher's questions & answer .
Listen
UNIT 1 :
A DAY IN THE LIFE OF (Writing)
7'
2.Pre- Writing
- Pre-teaches some words& phrases to help the students practice more easily.
+ be due to (adj) = because of
+ stare death in the face (v)
= so scared , afraid
+ take off (v)
+ fasten (v)
+ to keep safe on the plane 
2.Pre- Writing
-Take notes & try to get the meaning of the words.
1.Pre- Writing
* SOME NOTES :
+ be due to (adj) 
= because of
+ stare death in the face (v)
= so scared , afraid
+ take off (v)
= (plane) leave the ground
+ fasten seatbelt (v)
= fix the seatbelt around the body
+ to keep safe on the plane 
20'
3. While- Writing
(1). Task 1:
-Asks students to work in groups, read the passage and find all the verbs that are used in the past simple and the connectors (time expression) in the story.
-Goes round and helps students to practice more effectively.
- Calls on representatives to demonstrate their answer & gives feedback.
- Hangs on the chart(Handout 1) and explain how to write a narrative well.
(2). Task 2:
- Explains the requirement of Task 2
- Asks the students to work in groups and identify the events, the climax, and the conclusion of the story.
- Goes around for help
- Gets the Ss to report their result and checks before class
(3). Task 3:
- Explains the requirement of Task 3
- Has the Ss work in groups and build up a narrative about a hotel fire by using the prompts 
-Goes round and helps students to practice more effectively.
- Calls on representatives to stick their answer on the black board & gives feedback.
3. While- Writing
(1). Task 1:
-Work in groups 
-Try to work effectively
Listen & take notes
- Look at the chart and take notes
(2). Task 2:
- Pay attention to the requirement of Task 2
- Work in their groups and identify the events, the climax, and the conclusion of the story.
- Ask for help
- Practise before class.
(3). Task 3:
- Pay attention to the requirement of Task 3
- Work in their groups and write down the paper-board
-Try to work effectively
- Listen & take notes
2. While- Writing
(1). Task 1:
* Verbs: (Past simple)
Stared	 	was	arrived	
took off 	got	began
thought	felt	was	
announced	were	landed
screamed	realised	
* Connectors : 
At first	then 	just
On that day	one hour later	
A few minutes later
(2). Task 2:
*Events: 
+ got the plane	
+ plane took off
+hostesses were just beginning to serve lunch when the plane to shake
+ plane seemed to dip
+ people screamed in panic.
*Climax: we thought we had only minutes to live.
*Conclusion of the story: the pilot announced everything was all right, we landed safely.
(3). Task 3:
Suggested writing:
 Last year, I spent my summer holidays at a seaside town. The hotel was modern and comfortable. I had a wonderful holiday until the fire.
 It was Saturday evening and everybody was sitting in the discotheque (which was) on the ground floor. It was crowded with people. They were dancing and singing happily. Suddenly we smelt smoke. Then black smoke began to fill the room. Everybody started to scream in panic. People ran toward the fire exits. One door was blocked. Many people began coughing and choking. 
 Then, just as we thought we had only minutes to live, the fire brigade arrived. Firemen fought their way into the room and soon everyone was safely out of the building. Luckily, nobody was seriously hurt. It was the most frightening experience of my life.
5'
4. Post- writing
- Asks groups to exchange their hand-writing to correct mistakes
4. Post- writing
- Do as directed
3. Post- writing
"exchange your hand-writing to correct mistakes"
II. Homework
3'
-Gets the students to write about their experiences (frightening or interesting stories)
-Asks the students to prepare the next part ( Language Focus)
-Listen to the teacher's instruction & do it at home.
Self evaluation:
UNIT 1: A DAY IN THE LIFE OF...
 (LANGUAGE FOCUS)
I. AIMS AND OBJECTIVES:
1. Language Content:
	-To help students distinguish /i / from /i: / in words 
	- To enable students to use the simple present and the simple past & Adverbs of frequency. 
2. Language Function
	-To help students pronounce exactly two vowels /i / and /i: / .
	-To help students review some grammar points: simple present, simple past and adverbs of frequency
3. Educational Aim	
- To encourage Students to speak English grammatically 
4. Language 
	- Vocabulary: 	: No 
 	- Structures 	: The simple present & The simple past
	 Adverbs of frequency 
5. Educational factor	
	- To introduce Students some enjoyable ways of spending their free time: fishing and camping
II. TEACHER'S AND STUDENTS' PREPARATION
1. Method	Communicative Approach
2. Skills 	speaking, writing
3. Techniques 	Explanation, gap filling, pair-work, group-work,
4. Materials	textbooks , chalks, sub-board
5. Students' preparation	Review the grammar points and consult the grammar books
III. PROCEDURE IN CLASS
1- Stabilization 	(1')	 Warm up: Greeting. 
2- Checking up the previous knowledge : (4')
	- Asks one St to go to the board and write some sentences using the words given: 
1.Last year/ I spend/ summer holidays/ a seaside town. 
2.The hotel/ be modern/ comfortable. 
3. Luckily/ nobody/ be / seriously hurt. 
4. It / be / most frightening experience/ my life.
- Corrects mistakes and gives remarks and marks
* Suggested answers:
1.Last year I spent my summer holidays at a seaside town. 
2.The hotel was modern and comfortable. 
3. Luckily, nobody was seriously hurt. 
4. It was the most frightening experience in my life.
3- Presentation of the new materials:
Teaching steps
&Time
Teacher's activities
Students' activities
The lesson content
4'
* A. PRONOUNCIATION:
1. Lead-in 
- Writes the sentences down on the blackboard & asks the students to pronounce. The students who pronounce correctly will receive a present 
1. I need a little meat.
2. I can see a sheep on the sheep. 
à Leads to the new lesson.
1. Lead-in 
- Try to pronounce the sentences correctly.
- Listen to the teacher
4'
4'
2'
2. Pre-practice:
Introduces the sounds /I/and /I:/ by pronouncing them clearly and slowly.
Helps students to distinguish these two sounds . 
/ i: / : open your mouth very little to make the sound / i: / .
/ I / : first practice the sound /i:/ . Then open your mouth a little more.
Note : 	/ i: / : ee, ea , e.
	/ I / : i
- Reads the words in textbook once and tells Students the differences between two sounds /I/& /i: / and how to pronounce them.
- Reads one by one and has Students repeat.
- Corrects mistakes.
3. Controlled- practice:
-Play the tape and ask them to repeat .
-Calls on some students to repeat the sounds clearly to class.
-Asks students to work in pairs and practice the sentences .
-Goes around the class and provide help if necessary.
4. Free- practice:
- Has Students give some words with these sounds. 
- Give feedback
2. Pre-practice:
- Listen and repeat. First in chorus, then individually
* Pronunciation : 
 / I/ 	 /i:/
 Hit	heat
 Sit	seat
 Little	pean
 Click green
3.Controlled- practice:
-Listen to the tape
-Pronounce the words 
- Pair-work
4. Free- practice:
- Six groups
 UNIT 1 :
A DAY IN THE LIFE OF
(Language Focus)
I/ PRONUNCIATION: 
 ( / I / - / i: /)
 1. Pronunciation : 
 / I/ 	 /i:/
 Hit	heat	
 Sit	seat
 Little	pean
 Click	green
2. Practice : 
a. Is he coming to the cinema?
b. We'll miss the beginning of the film.
c. The beans and the meat were quite cheap.
d. He's going to leave here for the Green Mountains.
e. Would you like to have meat , peas and cheese?
3'
4'
7'
4'
* B. GRAMMAR:
1. Lead-in:
-Asks the students to give correct form of the verb .
* She usually (1-get) up at 6 o'clock . Then she ( 2-have) breakfast and ( 3-go) to school.
Asks:which tense do you give ?
Says and introduces the part.
 2. Pre-practice:
- Asks Students to review the form & uses of the simple present and the simple past.
- Has Students tell how to use adverbs of frequency and the position of them in the sentences.
- Corrects mistakes.
3. Controlled- practice:
- Asks Students to do the exercises on pages 20 and 21.
- Feedback
4. Free- practice:
-Asks the students to tell each other about the things they did in the summer .
-Calls on some students to tell .
-Corrects the mistakes .
1. Lead-in:
- Look at the sentences on the blackboard & give the correct form of the verbs.
(1) gets
(2) has
(3) goes
2. Pre-practice:
- Write down some necessary things. 
- Tell the structures and the usage of the simple present, simple past and adverbs of frequency.
3. Controlled- practice:
- Do the exercises individually and then check with their partners.
4. Free- practice:
- Groups of four
- Listen 
II.GRAMMAR :
1. The simple present tense : 
Ex: She gets up early everyday.
2.The simple past tense :
Ex: I met her at the supermarket yesterday.
 3. Adverbs of manner 
Ex: She usually gets up early.
 She is never late for class.
III. EXERCISES :
* Exercise 1: 
1. is 2. fish 3. worry
4. are 5. catch 6. am
7.catch 8. go 9. give up 
10. says 11.realize 12. am
* Exercise 2: 
(Put adverbs of frequency in its appropriate place in the sentences)
Ex: He usually gets up early
* Exercise 3: 
1. was done 	2. cooked 
3. were	4. smelt 
5. told 	6. sang
7. began 	8. felt 
9. put out	10. crept 
11. slept 	12. woke
13. was 	14. leapt 
15. hurried	16. found 
17. wound 	18. flowed
Consolidation
5'
Asks students to review the tenses they have just learnt and make some sentences using two tenses & adverbs of frequency.
- Do as directed
Homework
3'
-Asks students to do some exercises at home
-Asks the students to prepare for the next part Unit 2 -Reading)
-Listen to the teacher's instruction & do it at home.
* Give the correct tense of the verbs in brackets:
1. Janet (take ) the bus to work every day. 
2. Last Monday while we were watching in our living room an exciting game on television, the electricity (go)out.
3. She (wait, usually) for the bus at that corner .
Self evaluation: