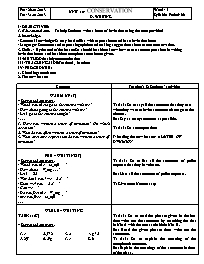 I/ OBJECTIVES :
1. Educational aim: To help Students write a letter of invitation using the cues provided
2. knowledge:
- Genereal knowledge: Ss may be familiar with expressions used in an invitation letter
- Language: Sentences and expressing opinionand making suggestions about nature conservation.
3. Skills: - By the end of the lesson Sts should be able to know how to use some expressions in writing invitation letters and be able to complete some letters given.
II/ METHOD:Mainly communication
III/ TEACHING AIDS: Textbook, handout
IV/ PROCEDURE:
1. Checking attendance
2. The new lesson
Bạn đang xem tài liệu "Giáo án English 10 - Unit 10: Conservation - D.Writing - Năm học 2012-2013", để tải tài liệu gốc về máy bạn click vào nút DOWNLOAD ở trên
Pre : 26.01.2013
Tea: 31.01.2013
UNIT 10: CONSERVATION
D. WRITING
Week: 5
Syllable Period: 66 
I/ OBJECTIVES :
1. Educational aim:	 To help Students write a letter of invitation using the cues provided 
2. knowledge:	
- Genereal knowledge: Ss may be familiar with expressions used in an invitation letter
- Language: Sentences and expressing opinionand making suggestions about nature conservation.
3. Skills: - By the end of the lesson Sts should be able to know how to use some expressions in writing invitation letters and be able to complete some letters given.
II/ METHOD:Mainly communication
III/ TEACHING AIDS: Textbook, handout
IV/ PROCEDURE:
1. Checking attendance
2. The new lesson
Contents
Teacher's & Students' activities 
WARM UP (5')
* Suggested answers:
- Would you like to go to the cinema with me?
- How about going to the cinema with me?
- Let's go to the cinema tonight?
- . . . 
1. Have you written a letter of invitation? On which occasion?
2. What do you often write in a letter of invitation?
3. What are some expressions do you write in a letter of invitation?
T: Asks Sts to say all the sentences that they can when they want to invite someone else to go to the cinema.
Sts: Say as many sentences as possible.
T: Asks Sts some questions
T: leading the new lesson : A LETTER OF INVITATION
PRE – WRITING (5')
* Suggested answers:
- Would you like + to_infi ?
- How about + V_ing . . .?
- Let's + B.I 
- Why don't you / we + B.I ?
- Shall we / you + B.I ?
- Can we ?
- Do you feel like + V_ing ?
- Are you free + to_infi ?
. . .
T: Asks Sts to list all the structures of polite requests that they have learnt.
Sts: Lists all the structures of polite requests.
T: Give more if necessary.
WHILE – WRITING
TASK 1: (8')
* Suggested answers:
1. e
2. f / h
3. a
4. g / d 
5. h/f 
6. d/g
7. e 
8. b
TASK 2: (10')
* Suggested answers:
1. Would you like / Are you free
2. Would you like / Are you free
3. Can you / Why don't you / Shall we
POST – WRITING
TASK 3: (15')
* Suggested answers:
Dear Lam, 
We have not met you since you moved. I miss you a lot.
We are both having some days-off between the two terms soon. If you have not made any other plans, why don't we spend a weekend together? Do you feel like visiting the forest near my grandparent's house again? It looks quite different now because very many young trees have been planted at the Tree-Planting Festivals.
Do come with us if you find it possible and I'll make all the preparations.
Please give my love to your parents.
Your friend,
Nam 
T: Asks Sts to read the phrases given in the box then write out the sentences by matching the first half in A with the most suitable half in B.
Sts: Read the given phrases then write out the sentences.
T: Asks Sts to explain the meaning of the completed sentences.
Sts: Explain the meanings of the sentences in front of the class.
T: Asks Sts to read the open letters given carefully and then fill in each blank in the invitation letters with a suitable expression provided in Task 1.
Sts: Read the letters and fill in each blank with suitable expression.
T: Asks Sts to explain the reasons of filling the expressions.
Sts: Explain the rules of forming verbs in those expressions.
T: Corrects mistakes if necessary.
T: Asks Sts to read the given words and then work in groups to write a complete letter.
Sts: work in groups and write a complete letter.
T: Goes round to offer help when necessary.
T: Calls on some Sts to go to the board to write each of the sentences of the letter in turns.
T: Gives corrections if necessary.
HOMEWORK (2')
T: Asks Sts to write a letter to invite a friend to spend a weekend at your home.
* Comments & supplement:

Tài liệu đính kèm:
D. writing.doc