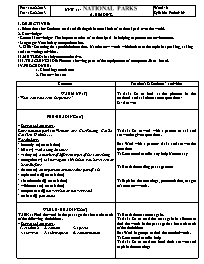 I. OBJECTIVES:
1. Education aim: Students read and distinguish some kinds of national park over the world.
2. Knowledge:
- General knowledge: The important roles of national park in helping to protect our environment.
- Language: Vocabulary comprehension.
 3. Skills: Scanning for specific information. Use the new words which relate to the topic in speaking, asking and answering activities.
II. METHOD: Mainly communicative.
III. TEACHING AIDS: Pictures showing parts of the equipments of computers. Extra board.
IV. PROCEDURE:
1. Checking attendance
2. The new lesson
Bạn đang xem tài liệu "Giáo án English 10 - Unit 11: National Parks - A.Reading - Năm học 2012-2013", để tải tài liệu gốc về máy bạn click vào nút DOWNLOAD ở trên
Pre : 10.02.2013
Tea: 18.02.2013
UNIT 11: NATIONAL PARKS
A. READING
Week: 6
Syllable Period: 69 
I. OBJECTIVES:
1. Education aim: Students read and distinguish some kinds of national park over the world. 
2. Knowledge:
- General knowledge: The important roles of national park in helping to protect our environment.
- Language: Vocabulary comprehension.
 3. Skills: Scanning for specific information. Use the new words which relate to the topic in speaking, asking and answering activities.
II. METHOD: Mainly communicative.
III. TEACHING AIDS: Pictures showing parts of the equipments of computers. Extra board.
IV. PROCEDURE:
1. Checking attendance
2. The new lesson
Contents
Teacher's & Students' activities 
WARM UP (5')
- What can you see in the picture?
T: Asks Sts to look at the pictures in the textbook and asks them some questions:
Ss: Answer
PRE-READING (10')
* Suggested answers:
Some national parks in Vietnam are: Cuc Phuong, Cat Ba, Cat Tien, U Minh . . .
Vocabulary:
butterfly (n) (translation)
hike (v) walk a long distance 
variety (n) a number of different types of the same thing
recognize (v) to know again sb/sth that you have seen or heard before
feature (n) an important or noticeable part of sth
orphaned (adj) (translation)
abandoned (adj) (translation) 
wilderness (n) (translation)
temperate (adj) not very hot or not very cold
toxic (adj) poisonous 
T: Asks Sts to work with a partner to ask and answer the given questions.
Sts: Work with a partner: Asks and answer the questions 
T: Goes round to offer any help if necessary 
T: Reads the reading passage once
T: Explains the meanings, pronunciation, usages of some new words.
WHILE - READING (20')
TASK 1: Find the word in the passages that best suits each of the following definitions.
* Suggested answers:
1. establish
2. contain
3. species
4. survival
5. sub-tropical
6. contamination
TASK 2: Complete the sentences with the words in task 1.
1. This kind of plant grows well in .weather.
2. The development of wildlife habitat reserves is necessary for the of wide range of 
3. Whisky  a large percentage of alcohol.
4. They have  national parks to protect endangered animals.
5. The of the water supply causes to diseases.
* Suggested answers:
1 sub-tropical 2. survival – species 3. contains 
 4. established 5. contamination 
TASK 3: Answer the questions:
* Suggested answers:
1. It contains over 200 square kilometers of rainforest.
2. Because at that time the rainy season is over.
3. They go there to learn how to recognize the different species of animals and plants.
4. Orphaned or abandoned animals are taken care of in the Orphanage.
5. Because of the toxic levels of chemicals in the water.
6. If more chemicals are released into the water, plants and animals will die / will be destroyed.
T: Reads the text once again.
T: Asks Sts to read the text again in silence to find the words in the passage that best suit each of the definitions
Sts: Work in groups to find the needed words.
T: Goes round to offer help
T: Asks Sts to read out loud their answers and explain the meanings
T: Writes some open sentences on the board and asks Sts to complete them with the words they have found in TASK 1
T: Asks Sts to discuss their answers with each other.
T: Calls on some Sts to read out their answers in front of the class.
T: Asks Sts to work in pairs to practice asking and answering questions about the reading passage.
Sts: Work in pairs: Ask and answer the questions
T: Goes round to offer any help when necessary.
T: Calls on some pairs to perform their task
POST READING (7')
Which of the three national parks would you like to visit most? Why?
What are the purposes of national parks?
T: Asks Sts to work in groups to discuss these questions:
HOMEWORK (3')
T: Asks Sts to study the vocabulary and read the reading passage again carefully.
* Comments & supplement:

Tài liệu đính kèm:
A.doc