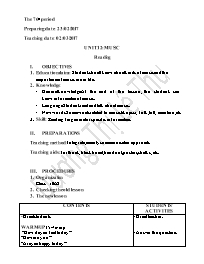 I. OBJECTIVES
1. Educational aim: Students should know about kinds of music and the importance of music in our life.
2. Knowledge:
- General knowledge: At the end of the lesson, the students can know information of music.
- Language: Students read and talk about music.
- New words: Some words related to music like jazz, folk, lull, emotion,etc
3. Skill: Reading for general or specific information.
II. PREPARATIONS
Teaching method: Integrate, mainly communication approach.
Teaching aids: Textbook, blackboard, handouts, posters, chalks, etc.
Bạn đang xem tài liệu "Giáo án English 10 - Unit 12: Music - Reading - Năm học 2016-2017", để tải tài liệu gốc về máy bạn click vào nút DOWNLOAD ở trên
The 76th period
Preparing date: 23/02/2017
Teaching date: 02/03/2017
UNIT 12: MUSIC
Reading
OBJECTIVES
Educational aim: Students should know about kinds of music and the importance of music in our life.
Knowledge: 
General knowledge: At the end of the lesson, the students can know information of music.
Language: Students read and talk about music.
New words: Some words related to music like jazz, folk, lull, emotion,etc
Skill: Reading for general or specific information.
PREPARATIONS
Teaching method: Integrate, mainly communication approach.
Teaching aids: Textbook, blackboard, handouts, posters, chalks, etc.
PROCEDURES
Organization
Class: 10A2
Checking the old lesson
The new lesson
CONTENTS
STUDENTS' ACTIVITIES
-Greet students.
WARM-UP (5-7 mins)
 "How do you feel today?"
"How are you?"
"Are you happy today?"
-Let students play the game: Free dancing
When the music is turned on, students will dance, but when the music stops, students have to stop suddenly. If they move, they will lose the game. 
-After playing, ask them some questions: 
"Do you like music?" 
"Who is the fan of Son Tung MPT in this class?" 
"What kinds of music do you like?" 
Lead to the lesson
-"Music is a popular topic in our daily life, so today we will learn about music. Let open your book on page 124 and write the lesson: Reading"
PRE-READING(3-5mins) 
-Ask them to work in group of 4 and match the description with suitable type of music on the poster. 
-Call students show their answers. 
-Check students' answers and give feedback. 
WHILE-READING (23-25 mins) 
-Ask students to open their books and read the text by 
their eyes first. 
-Ask them to find out the new words on the text. 
-Give students suggestion to guess the meaning of new 
words. (read previous sentence or base on the whole 
sentence to guess meaning) 
-Use word cards to show and explain the new words. 
New words:
1/communicate(v): When you talk to other people, I say "you communicate with them"
2/emotion(n): Tình cảm
3/integral part(adj): phần thiết yếu
4/solemn(adj): trang nghiêm, trọng thể
5/mournful(adj): Tang thương, buồn thảm
6/lull(v): Ru (ai đó) ngủ
7/delight(v) : Làm hài lòng
-Give students time to write the new words. 
-Call students to read the text. 
-Correct students' pronunciation mistakes. 
-Ask them about the general content of the text. 
"What is it about?" 
Task 1: Fill in blanks with the given words. 
-Ask students to work in pair and indicate the location of given words in the text. 
-Check their understanding about the word meanings. 
-Divide class into 2 groups. 
-Ask students to touch their hands under the table to take the words cards out. (Teacher stick word cards under the table before starting the lesson, students don't know that) 
-Students will keep the word cards and run quickly toward the board to match with suitable blank in sentences which teacher read. 
-The students who is faster will stick in blank and the 
another one will stick beside the sentence. 
-Ask any student to read the sentence. 
-Check students' answers and give feedback.
Answer: 
1.communicate 
2.lull 
3. delights 
4. integral part 
5.solemn 
6.emotion 
7. mournful 
Task 2: Decide statements is True(T) or False(F). 
Correct wrong information. 
1.Language and appearance make humans different from all other animals. 
2.Music can express thoughts, love and feeling of people. 
3.Music add joyfulness to the atmosphere of a funeral. 
4.Music can not help babies sleep at night. 
5.Beside entertainment, music also contributes to the 
country's economy. 
-Give students handouts. 
-Ask students to work individually. 
-Call students to read their answers and correct wrong 
Information.
-Check and give feedback. 
POST-READING (5-7 mins) 
-Divide class into 2 groups. 
-One group will discuss about "The importance of music in our life". 
-Another group will discuss about "life without music". 
-Call 2 groups present their answers. 
-Check and give feedback.
-Greet teacher.
-Answer the question.
-Join the game.
-Answer questions.
-Do the task.
-Read text by eyes.
-Find out the new words.
-Write new words.
-Read the text.
-work in pair and do as teacher's requirement.
-join the activity.
-listen to teacher.
Answer: 
1.F 2.T 3.F 4.F 5.T 
-Work as teacher's requirement.
-listen to teacher.
-Join the activity.
Consolidation: Students should find out more information about some sport report on television.
Homework (3-5 mins)
-Summary the content of the lesson (new words, the text)
-Ask students to do task 2 in textbook.
-Ask students to practice reading at home and prepare for the next lesson.
 IV.COMMENTS