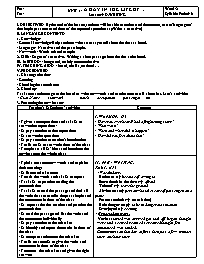 I. OBJECTIVES: By the end of the lesson, students will be able to understand the content, use of language of the simple past tense and form of the reported speech essay (Write a narrative)
II. LANGUAGE CONTENTS:
1. Knowledge:
- General knowledge: Help students write an essay to tell about the fire at a hotel.
- Language: Narrative and the past simple.
- New words: Words related to topic
2. Skills: Stages of a narrative. Writing a short passage about the fire at the hotel.
III. METHOD: - Integrated, mainly communicative
IV. TEACHING AIDS: - board, chalks, textbook
V. PROCEDURES:
1. Class organization:
- Greeting
- Checking the attendance
2. Check up:
T asks one student to go to the board to write new words and use the cues to talk about Mr. Lam's activities
* Cues: Name start work lunch occupation passengers rest
Bạn đang xem tài liệu "Giáo án English 10 - Unit 1: A day in the life of - Lesson 4: D.Writing - Năm học 2015-2016", để tải tài liệu gốc về máy bạn click vào nút DOWNLOAD ở trên
Pre : 
Tea: 
UNIT 1: A DAY IN THE LIFE OF 
Lesson 4: D.WRITING
Week: 2
Syllable Period: 6 
I. OBJECTIVES: By the end of the lesson, students will be able to understand the content, use of language of the simple past tense and form of the reported speech essay (Write a narrative)
II. LANGUAGE CONTENTS: 
1. Knowledge:
- General knowledge: Help students write an essay to tell about the fire at a hotel.
- Language: Narrative and the past simple.
- New words: Words related to topic
2. Skills: Stages of a narrative. Writing a short passage about the fire at the hotel.
III. METHOD: - Integrated, mainly communicative
IV. TEACHING AIDS: - board, chalks, textbook
V. PROCEDURES:
1. Class organization: 
- Greeting 
- Checking the attendance
2. Check up:
T asks one student to go to the board to write new words and use the cues to talk about Mr. Lam's activities
* Cues: Namestart worklunchoccupationpassengersrest
3. Presenting the new lesson:
Teacher's & Students' activities
Contents
- T gives some questions and asks Ss to answer these questions:
- Ss pay attention to these questions
- Ss answer the questions
- Ss pay attention to teacher's introduction 
- T calls on Ss to answer in front of the class
- T emphases all Ss' ideas and introduce the new lesson to the whole class
I. WARM UP: (5')
- Have you ever heard / had a frightening story?
- What was it?
- When and where did it happen?
- How did you feel about that?
- T picks out some new words and explains their meanings
- Ss listen and take notes
- T reads the words and asks Ss to repeat
- T asks Ss to practice reading the pronunciation
- T asks Ss to read the passage and find all the verbs that are used in the past simple and the connectors in front of the class
- Ss repeat after the teacher and practice the pronunciation
- Ss read the passage and list the verbs and the connectors individually
- Ss pay attention to the mistakes
- Ss identify and report the results in front of the class
- Ss compare and correct the mistakes
- T calls on some Ss to give the verbs and connectors in front of the class
- T corrects the mistakes and gives the right answers
- T asks Ss to read the passage again and identify the events, the climax, and the conclusion of the story 
- T calls on some Ss to report the results to the class
- T corrects the mistakes and gives the right answers
- Ss listen and read the prompts quickly
- T explains the request of the exercise and asks Ss to use the prompts to build up a narrative about a hotel fire.
- T goes around and helps Ss if necessary and then asks them to have peer correction
- Ss build up the narrative individually Ss write their writings on the board 
- Ss pay attention to the mistakes 
- T calls on some three Ss to read aloud and write their writings in front of the class.
- T corrects the mistakes and gives marks
II. PRE - WRITING:
Task 1: (15')
* Vocabulary:
+ Be due to (a): because of, owing to
+ Stare death in the face (v): afraid
+ Take off (v): leave the ground
+ Air-hostess (n): person who takes care of passengers on a plane
+ Fasten seatbelt (v): (translation)
+ Be in danger (exp): to be in dangerous situation
+ Overjoyed (a): exciting
* Expected answers:
 Verbs: started, was, arrived, got, took off, began, thought, were, told, seemed, realized, screamed, thought, felt, announced, was, landed.
Connectors: on that day, at first, then, just, a few, minutes later, one hour later
Task 2: (5')
* Expected answers:
The events: Got on plane, plane took off, hostesses were just beginning to serve lunch when plane began to shake, plane seemed to dip, people screamed in panic.
The climax: We thought we had only minutes to live.
The conclusion: Pilot announced that everything was all right, we landed safely.
III. WHILE - WRITING:
The events: 
- They were dancing and singing happily. 
- Suddenly we smelt smoke. Then black smoke began to fill the room.
The climax:
- Everybody started to scream in panic.
- People ran toward the fire exists. One door was blocked. - -- Many people began coughing and choking. 
- We thought we had only a few minutes to live
The conclusion:
- the fire brigade arrived. 
- Firemen fought their way into the room and soon everyone was safely out of the building. 
- Luckily, nobody was seriously hurt. 
Connectors: on that day, at first, then, just, a few minutes later, one hour later
Tense: simple past tense
IV. POST – WRITING:
Task 3: (15')
* Expected answers:
Last year, I spent my summer holidays at a seaside town. The hotel was modern and comfortable. I had a wonderful holiday until the fire.
It was Saturday evening and everybody was sitting in the discotheque (which) on the ground floor.
It was crowded with people. They were dancing and singing happily. Suddenly we smelt smoke. Then black smoke began to fill the room. Everybody started to scream in panic. People ran toward the fire exists. One door was blocked. Many people began coughing and choking.
Then, Just as we thought we had only a few minutes to live, the fire brigade arrived. Firemen fought their way into the room and soon everyone was safely out of the building. Luckily, nobody was seriously hurt. It was the most frightening experience of my life.
- Ss take notes
V. HOMEWORK: (5')
- Complete their writings and prepare the next lesson
VI. Comments & supplements:

Tài liệu đính kèm:
D.Writing.doc