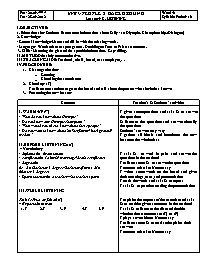 I. OBJECTIVES:
1. Education aim: Students listen some information about Sally - an Olympic. Championship. (Dialogue)
2. Knowledge:
- General knowledge: Listen and fill in with the missing words.
- Language: Words relate to sport games. Deciding on True or False statements.
 3. Skills: Listening for gist and for specific information. Gap- filling.
II. METHOD: Mainly communicative.
III. TEACHING AIDS: Textbook, chalk, board, cassette player,
IV. PROCEDURES:
1. Class organization:
 Greeting
 Checking the attendance
2. Check up: (5')
T calls on one student to go to the board and talk about the person who she/he has known
3. Presenting the new lesson:
Bạn đang xem tài liệu "Giáo án English 10 - Unit 3: People's Back ground - Lesson 4: C.Listening - Năm học 2012-2013", để tải tài liệu gốc về máy bạn click vào nút DOWNLOAD ở trên
Pre : 20.09.2012
Tea: 28.09.2012
UNIT 3: PEOPLE'S BACKGROUND
Lesson 4: C. LISTENING
Week: 6
Syllable Period: 16 
I. OBJECTIVES:
1. Education aim: Students listen some information about Sally - an Olympic. Championship. (Dialogue)
2. Knowledge:
- General knowledge: Listen and fill in with the missing words. 
- Language: Words relate to sport games. Deciding on True or False statements.
 3. Skills: Listening for gist and for specific information. Gap- filling.
II. METHOD: Mainly communicative.
III. TEACHING AIDS: Textbook, chalk, board, cassette player,
IV. PROCEDURES:
Class organization: 
Greeting 
Checking the attendance
Check up: (5')
T calls on one student to go to the board and talk about the person who she/he has known 
Presenting the new lesson:
Contents
Teacher's & Students' activities 
I. WARM-UP (7')
- What do you know about Olympic?
- Do you know any Olympic champions?
- What would you like to know about these people?
- Do you want to know about his/her family/ background/ medals?
II. BEFORE LISTENING: (10')
 * Vocabulary 
- diploma (n): (translation)
- certificate (n) ( a birth/ marriage/ death certificate)
- degree (n) 
Ex: BA (Bachelor's degree-Bachelor of Arts), MA (Master's degree)
- Sports teacher (n) a teacher who teaches sports
III. WHILE LISTENING 
Task 1:-True or false(10')
* Expected Answers
1. T 
2.T 
3. F 
 4.T 
5. F
Task 2: -Gap filling (10')
* Expected Answers
1. a general education
2. lives, family
3. different- swimming
4. love stories
5. teacher's diploma
IV. AFTER LISTENING (7')
* The outline of Sally's background:
1980local school.15..familybasketball and swimming.sports teacher..teacher's diploma
Homework (2')
T gives some questions and asks Ss to answer the questions 
Ss listen to the questions and answer chorally the questions
Students' answers may vary
T gathers all ideals and introduces the new lesson to the whole class
T asks Ss to work in pairs and answer the questions in the textbook
T calls on some Ss to answer the questions
T corrects mistakes if necessary
T writes some words on the board and gives their meanings, uses, and pronunciation
T reads the words and asks Ss to repeat
T asks Ss to practice reading the pronunciation
T explains the request of the exercise and asks Ss to read the given sentences in the textbook
T asks Ss to listen to the disc and decide whether the statements are (T) or (F)
T plays several times if necessary
T calls on some Ss to read and explains their answers
T corrects mistakes if necessary
T asks Ss to read a part of the conversation and try to guess the missing words
T asks Ss to listen to the disc and fill in the blanks
T calls on some Ss to read and explain their answers
T corrects mistakes if necessary
T gives Ss the outline of Sally's background
T asks Ss to base on these information and make a short talk about Sally
T goes around the class
T calls on some pairs to carry out their talks
T asks Ss to listen to other cassettes and prepare the next lesson

Tài liệu đính kèm:
C.Listening.doc