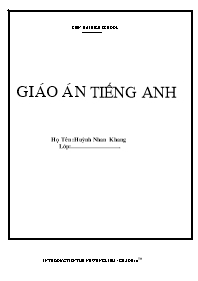 I.Objectives : By the end of the lesson, sts will be able to :
-get information about s.o's daily routines
-guess the meanings of new words from the context.
-use the new words for speaking , questions- answers.
II. Teaching Aids : Textbook, pictures, posters,cassette player, tapes.
III. Methods: Communicative Approach
IV. Teaching steps :
 Classroom procedure: Greeting & Checking attendance
 Rivision: Call one or two sts to come to the board and ask them to write down the form of the simple present tense and the simple past tense.
 New lesson:
 KIEN HAI HIGH SCHOOL
 **********
 GIAÙO AÙN TIẾNG ANH
 Họ Tên :Huỳnh Nhan Khang
 Lớp:.
 INTRODUCTION THE NEW ENGLISH - GRADE 10TH
Preparing date : 
Week : 1st
Period: 1st
 I.Objectives:
 By the end of the lesson , sts will be able to :
be easier the text book
use the textbook in the exactly cases.
 II. Methods : Communicative approach - Grammar translation .
 III. Teaching aids :
 Textbook, lesson plans
 IV. Teaching steps :
Classroom procedure Greeting
 Checking attendance
 B.Revisetion :
 No
 V. New lesson 
 Teacher's activity
Sts' activities
 Content
- Introduce the new English - grade10th .
 - Ask every student must have one textbook.
- tell sts to prepare their notebooks.
-Ask sts to open their books and show them any parts are there in the textbooks. 
- Show them how to use the 
books (the new English – grade 10 )
-Ask sts some questions relating to the textbook .
- Show sts how to use the English dictionary by giving them one page of the English dictionary.
-Tell sts any point of the one period test :
 Reading :25%
 Listening : 25%
 Writing : 25%
 Language : 25%
-Ask sts to prepare the unit 1.
Listen
Open the textbook.
Listen and answer the questions.
Listen.
Listen
Answer the questions :
How many units are there in the text book ?
How many test yourself are there in the text book ?
How many skills are there in one unit ?
What are they ?
Where can you find the vocabulary quickly ?Where?
What are purposes of the book map?
 Check –up:
 Date:
Preparing day: 
Week: 1st
Period : 2nd 
 KSCLĐN
Unit 1: A DAY IN THE LIFE OF ... 
Preparing day: 
Week: 1st
Period : 3 
 A. READING
I.Objectives : By the end of the lesson, sts will be able to :
-get information about s.o's daily routines
-guess the meanings of new words from the context.
-use the new words for speaking , questions- answers.
II. Teaching Aids : Textbook, pictures, posters,cassette player, tapes..
III. Methods: Communicative Approach 
IV. Teaching steps :
 Classroom procedure: Greeting & Checking attendance
 Rivision: Call one or two sts to come to the board and ask them to write down the form of the simple present tense and the simple past tense.
 New lesson:
Teacher's activity
Sts' activities
Contents
I.Before you read:
1. Lead- in:
-Ask sts to closethe book. work in pairs.
-Give the posters & ask sts to match the column A&B.
-Ask sts some questions related.
- Lead in the new lesson.
2. Pre-teach vocabulary:
- Use pictures to teach words.
+picture of the man ploughing.
+picture of a man leading the buffalo to the field.
+ picture of the plots of land.
- Ask sts to give the new words.
-Give the feedback and introduce new words.
II. While you read:
-Ask sts to scan the information from passage.
- Explain task 1 and ask sts to work in pairs.
- Give the feedback . 
- Ask sts to scan the information frompassage.
- Ask them to work in pairs to talk about Mr Vy & Mrs Tuyet.
-Control and give the correct answers.
-Ask sts to work in groups to talk about Mr Vy's and Mrs Tuyet's activities again.
- Call some sts to present.
* After you read:
- Ask sts to work in pairs to talk about their father's or mother's activities.
-Work in pairs.
-Answer the questions
- Listen
-Look at the pictures.
- Predict vocabularies.
- Pronouce the vocabularies.
- Scan information.
- Work in pairs.
- Read the passage again.
-Work in pairs.
-Answer questions.
-Work in groups.
- Present.
- Work in pairs
-Listen and write down.
 A B
 1 doctor 1. school
 2 teacher 2. hospital
 3 farmer 3. factory
 4 worker 4. field
 Answers: 1-2 ; 2-1 ; 3-4; 4-3.
*Vocabulary:
-Lead the buffalo to the field (v)
-Plough(v,n) /plÙf/
-Harrow(v,n) /'hær¶/u/
-A peasant(n)/pez¶/nt/= Farmer
 A fellow peasant (n)
- Transplant(v)
 do the transplanting.
(be)contentedwith(v)/kÙn'tentid/
*Task 1:(p13)
Answer: 1.C 2.C 3.A 4.A
*Task 2:(p.14)
1.He's a peasant.
2. He gets up at 4:30 and then he go down to the kitchen to boil some water for his morning tea.
3.In the morning... his breakfast.
4.In the afternoon... transplanting.
5.Yes, they are children.
*Task 3:(p14)
 Time Mr Vy's Act
*Talk about your father's or mother's activities.
*Homework: Tell Mr Vy's and his wife again.
 Check-up:
Date:
 3
 Unit 1: B.SPEAKING
Preparing date:
Week : 2
Period 4 
I.Objective: By the end of the lesson, sts will be able to get information from the timetable & talk about s.o's activities.
II. Teaching Aids : Textbook, pictures, posters,cassette player, tapes...
III. Methods : Communicative Approach
IV. Teaching steps :
Classroom procedure: Greeting & Checking attendance
Rivision: Call one or two sts to come to the board and ask them to talk about Mr Vy's and his wife's activities again then check-up and give marks.
New lesson:
Teacher's activity
Sts' activities
Contents
I.Before you speaking:
 1. Lead- in:
-Ask sts to work in groups of four
- Ask them to complete the chart below by using the open questions.
 2. Pre-teach vocabulary:
- Ask sts to give the new vocabularies.
-Give the feedback and introduce thevocabularies.
II. While you speaking:
-Ask sts to scan the information from the task.
- Explain task 1 and ask sts to work in pairs by using timetable to talk about Quan's activity(about 7/10 minutes).
- Give the feedback . 
-Ask sts to scan the information from the task2.
- Ask them to work in pairs to talk about his activities.
Control and give correct answers.
- Tell sts to close the book.
-Ask sts to work in groups to talk about music again .
- Call some sts to present.
* After you speaking :
- Ask sts to work in pairs to talk about their rountine.
 * Homework:
 Ask sts to write down.
-Work in pairs.
-Complete the chart.
- Listen 
- Predict some vocabularies.
- Pronouce the vocabularies.
- Scan the information.
- Work in pairs.
- Read the passage again.
-Work in pairs.
-Work in groups.
- Present.
- work in pairs
-Listen and write down.
?
?
?
Subjects
?
 English, maths, physics 
*Task 1: 
 What do/does+S+ V(inf)?
 S+ V(s/es) . at + time.
A. What time does Quan have Civic Education lesson on Monday?
B.He has Civic Education lesson at 7:15 a.m.
A. What lesson does Quan have at 7:15 a.m on Monday?
B. (At 7:15 on Monday he has Civic Education lesson.
 .
*Task 2:
Everyday Quan gets up at 14:00. Then he studies for about two hours . He watches T.V at 16:30. At 17:00 he rides to the stadium to play football with other boys in the neigborhood. He gets back home at 18:30. After having a shower, he has dinner with his family 
at 19:00. He prepares for the following day's lesson at 20:00.
Task 3: 
 Talk about their classmates' activities 
*After you speaking:
 Feedback:
 Group work to talk about their activities.
*Homework: 
- Ask sts to write a passage about their rountine.
- Do the exercises in the exercise book.
- Repair the next part in the text book
 Check – up:
 Date:
 4
 Unit 1: C. LISTENING 
Preparing date: 
Week : 2nd 
Period: 5th 
I. Objectives: By the end of the lesson, sts will be able to get specific information about the life of a cyclo diver.
II. Teaching Aids : Textbook, pictures, posters,cassette player, tapes...
III. Methods : Communicative Approach.
IV. Teaching steps :
 1.Classroom procedure: Greeting & Checking attendance. 
 2.Rivision: - Call one or two sts to come to the board and talk about their daily activities.
 - Check up and give the feedback. 
 3.New lesson:
Teacher's activity
Sts' activities
Contents
I. Before you listen:
1. Lead- in:
-Ask sts to look at the picture and guess means of transportation.
- Lead in the new lesson".
2. Pre-teach vocabulary:
- Use some pictures to teach vocabularies.
- Ask sts to give the new vocabularies.
-Give the feedback and introduce the vocabularies
II. While you listen:
-Ask sts to scan the information from the sentenses and choose Tor F.
- Explain task 1 and ask sts to work in pairs.
- Give the feedback .
- Ask sts to listen the information from the taps again and do the exercise. 
- Ask them to work in pairs to talk about the reading passage.
-Control and give the correct answers.
- Tell sts to close books.
-Ask sts to work in groups to talk about their rountine.
* After you listen:
- Ask sts to work in pairs.
- Call some sts to present.
 * Homework:
- summarize the listening.
- Ask sts to learn lesson.
Work in pairs.
Answer the questions
- Listen
- Predict some vocabularies.
- Pronouce the vocabularies.
- Scan the information.
- Work in pairs.
-Listen the tap.
-Work in pairs.
-Answer the questions.
-Listen again.
-Work in groups.
- Present.
- Whole class
-Listen and write down.
-Write down.
ŽŒ 
 Car Motorbike Bus Plan 
*Before you listen: 
*Vocabulary:
-district (n) - purchases(v) : buy
-Pedal (n) -drop(v) : leave s.o at a place
- Passenger (v) : people who travel on a train, bus
- Foodstall (n) : compartment or kiosk near a market where food is sold.
*Task 1:
 Answer: a.3 b.5 c.4 d.6 e.1 f.2
*Task 2: 1.F Not given
 2. T
 3.F He takes passengers from District 5 to District 1.
 4.F His first passenger is an old man.
 5.F He has lunch at a food stall near Ben Thanh market
 6.F He takes a short rest.
*After you listen: 
 Talk about Mr Lam's activities using suggested answers:
What's the man'name?
What does he do?
What time does he start work?
 Who are his passengers?/ Is his passenger an old man?
Where does he have learn? What time does he have learn?
Does he take arrest?
.
*Homework: - Summarize the main points.
- Do the exercises in the exercise book.
- Repair the next part in the text book.
 Check – up:
 Date:
 5
Unit 1: D. WRITING
Preparing date: 
Week : 2nd 
Period: 6th 
I.Objectives: By the end of the lesson, sts will be able to write a narrative based on prompts provided
II. Teaching Aids : Textbook, pictures, posters
III. Methods: Communicative Approach
IV. Teaching steps :
1.Classroom procedure: Greeting & Checking attendance.
2.Rivision:- Call one or two sts to come to the board and ask them talk about the musician they like best.
 - Check up and give the feedback.
3.New lesson:
Teacher's activity
Sts' activities
Contents
I.Before youwrite:
1. Lead- in:
-Ask sts to play the game: Noughts(O) and Crosses(X)
-Ask tham to choose the word and make the sentences.The group of 3 O/X is the winner.
2. Pre-teach vocabulary:
- Ask sts to give the new vocabularies.
- explain the vocabularies
II. While you write :
-Ask sts to scan the information 
- Explain task 1 and ask sts to work in individually.
- Give the feedback . 
 -Ask sts to scan the information from the passage.
-Control and give the correct answers.
- Tell sts to close the books.
-Ask sts to work in groups to write the format of a narrative
- Call some sts to present. ... the questions.
-Work in groups.
- Present.
- work in pairs
-Listen and write down.
LISTENING:
Words: to fall in love (v) to get married(v)
 minister (n) memorial (n)
 the black freedom movement(n) to die from(v)
Feedback: (1)On 15th Jan 1929 (2) In 1951
(3) for 4 years (4) He met (5) They got married
(6) a minister at a (7)the black freedom movement 
(8) heard his speech at the (9) In 1964 (10) 4th Apr 1969
READING:
Words: do research (v) principal (n) technical college (n) Public Health Council (n) Government (n)
Feedback: 1.1F 2.C 3.A 4.D 5.B 
GRAMMAR:
to apply (2) am (3) attended (4)passed (5)got
(6)can (7)reading (8)know (9)am able (10)hearing
WRITING:
Suggested answer:
 , Hanoi, Vietnam
 10th November, 2007
Dear Sally,
I am very please to be your penfriend.Iam sixteen years old. I am 
I am a student at Chu Van An High School.
I hope that you will write to me soon.
Give my best to your parents and two sisters.
Love, 
Lan
*Homework: 
- Do the exercises in the exercise book.
- Repair one period test.
- Repair the next part in the text book
 Check – up:
 Date:
 REVIEW 1
Week : 35 
Period: 102
 I.Objectives: By the end of the lesson, sts will be able to pay more attention to what they have done in the one period test.
II. Teaching Aids : Testing papers
III. Methods : Communicative Approach
 IV. Teaching steps :
 1. Classroom procedure: Greeting & Checking attendance.
 2.Rivision: - No
 3.New lesson:
Teacher's activity
Sts' activities
Contents
- Ask them to pay more attention in their testing paper.
- Ask sts to explain their answers again. 
-Give the feedback .
-Ask sts to work in groups to disscuss their answers.
- Call some sts to take notes some points of the test.
 * Homework:
- Repair the next part in the text book.
- Listen
-Work in groups.
Take notes
-Listen and write down.
Answers:
I.Choose the best answer: (4 marks)
.A
.B
.D
.C
.D
.A
.B
.C
.A
C
11.D
12.B
13.C
14.D
15.A
16.B
17.A
18.B
19.C
20.D
II.Use the correct tense of the verb in the bracket: (2 marks)
.
.
.
.
III. Make the questions for the answer:
.
.
.
.
IV.Read the passage and then answer the questions: 
.
.
.
.
.
*Homework: 
- Do the exercises in the exercise book.
-Repair the next part in the text book
Check – up:
 Date:
 20 
Unit 16: 
 REVIEW 2
Preparing date:
 Week: 36
Period: 103
 I.Objectives: By the end of the lesson, sts will be able to :
 - distingwish the two sounds /¶/ and /З:/ 
 - reviewing the present progressive (with the future meaning) and use "be going to".
II. Teaching Aids : 
 Textbook, pictures, posters,...
III. Methods : 
 Communicative Approach
IV. Teaching steps :
Classroom procedure: 
 Greeting 
Rivision:
 - Call one or two sts to come to the board and ask them to do the exercises:
 I* Use the correct tense of the verb in the bracket:
Mary (live) in London from 1993 to 1996. She now (live) in Marid.
What you ( do) next week?
 II* Fill in the blank with a suitable word:
Is this the letter.you wanted me to post?
This is the boy . has just won the singing contest.
 have the future in their hands.
She is fond of . romantic novels.
 *Answer: 
 I. 1. lived/ is living.
 2. willdo/ are  going to do
 II. 
which/ that
who/ that
The young
 reading 
 - Check up and give the feedback.
New lesson:
Teacher's activity
Sts' activities
Contents
1. Lead- in:
-Ask sts to work in groups of four
- Ask them to look at the pictures and them "what are they?"
- Lead- in the new lesson.
*PRONUCIATION:
- Ask sts to pronounce the two sounds /¶/ and /З:/.
- Ask the to repeat the words in text book.
-Ask sts to practise the sentences ( by calling some sts to read).
- Chech up and correct their mistakes. 
GRAMMAR:
- Remind the form of the present progressive.
- Emphasize with the future meaning of this tense.
- Relating to " be going to"
- Explain some words and phrases in the tasks.
-Give the feedback and introduce the vocabularies
-Ask sts to scan the information from the task.
- Explain Ex 1 and ask sts to work in pairs.
- Give the feedback . 
- Ask sts to scan the information from the ex 2,3.
- Ask them to work in pairs 
-Control and give the correct answers.
-Ask sts to work in groups to talk 
- Call some sts to present.
- Correct and give the feedback.
* More exercise:
- Explain the exercise.
- Ask sts to work in pairs.
- Check up and give the feedback.
*Answer:
is going to be.
amnot using
isnot going to rain
is coming/ is traveling/ am meeting.
* Homework: 
Do the exercises in the exercise book and prepare next part.
Work in groups.
Answer the questions
- Listen
- Pronounce the vocabularies.
- Scan the information.
- Work in pairs.
- Do the exercises.
-Answer the questions.
-Work in individual
- Present.
- Work in pairs
- Present.
-Listen and write down.
 pictures­ birdó
*PRONUCIATION:
 /¶/ /З:/ 
 teacher bird
 today early
 picture church
 ..........................
 *GRAMMAR:
 The present progressive: 
 (be) + V-ing
 Use: 
 the action is happening ( with some signals: now, right now , at the moment)
Ex: I'm writing my lesson right now.
 the future action with the arrangement of a person ( certainly happen)
Ex. Would you like to drink with metomorrow?
 Sorry, I have a plan. I am meeting Mary tomorrow.
 (be) going to + V(inf):
(be) going to + V(inf)
 The certain attention in the future.
Ex. I'm going to visit my mother tomorrow.
 the future action will happen like the thought.
Ex: Look at those black clounds. 
 It is going to rain.
Exercise 1: 
 1. are you doing 2.is getting married
 3.Are you going 4.am going to be 
 5.is going to
Exercise 2:
 1.are going 2.are having 3.is going to catch
4. are you putting 5. isnoy going to give
Exercise 3:
Are you going to see it/I'm doing my homework.
we are visiting our grand parents.
What's he going to do with it?/  he going to buy a new motorbike.
It's going to rain soon
I'm going to clean them later.
* More exercise:
Use the verb in the bracket with the present progressive and "be going to":
It's already 32°C . It (be) very hot today.
I(not/ use) the car this evening , so you can have it.
I think it ( not/ rain). The sky is very bright.
Sue (come) to see us tomorrow. She (travel) by train and her train arrives at 10:15. I (meet) her at the station.
*Homework: 
-Making 5 sentences using the present progressive and (be) going to.
- Do the exercises in the exercise book.
- Repair the next part in the text book
 Check – up:
 Date:
Unit 16: 
 REVIEW 2
Preparing date:
 Week: 36
Period: 104
 I.Objectives: By the end of the lesson, sts will be able to :
 - distingwish the two sounds /¶/ and /З:/ 
 - reviewing the present progressive (with the future meaning) and use "be going to".
II. Teaching Aids : 
 Textbook, pictures, posters,...
III. Methods : 
 Communicative Approach
IV. Teaching steps :
Classroom procedure: 
 Greeting 
Rivision:
 - Call one or two sts to come to the board and ask them to do the exercises:
 I* Use the correct tense of the verb in the bracket:
Mary (live) in London from 1993 to 1996. She now (live) in Marid.
What you ( do) next week?
 II* Fill in the blank with a suitable word:
Is this the letter.you wanted me to post?
This is the boy . has just won the singing contest.
 have the future in their hands.
She is fond of . romantic novels.
 *Answer: 
 I. 1. lived/ is living.
 2. willdo/ are  going to do
 II. 
which/ that
who/ that
The young
 reading 
 - Check up and give the feedback.
New lesson:
Teacher's activity
Sts' activities
Contents
1. Lead- in:
-Ask sts to work in groups of four
- Ask them to look at the pictures and them "what are they?"
- Lead- in the new lesson.
*PRONUCIATION:
- Ask sts to pronounce the two sounds /¶/ and /З:/.
- Ask the to repeat the words in text book.
-Ask sts to practise the sentences ( by calling some sts to read).
- Chech up and correct their mistakes. 
GRAMMAR:
- Remind the form of the present progressive.
- Emphasize with the future meaning of this tense.
- Relating to " be going to"
- Explain some words and phrases in the tasks.
-Give the feedback and introduce the vocabularies
-Ask sts to scan the information from the task.
- Explain Ex 1 and ask sts to work in pairs.
- Give the feedback . 
- Ask sts to scan the information from the ex 2,3.
- Ask them to work in pairs 
-Control and give the correct answers.
-Ask sts to work in groups to talk 
- Call some sts to present.
- Correct and give the feedback.
* More exercise:
- Explain the exercise.
- Ask sts to work in pairs.
- Check up and give the feedback.
*Answer:
is going to be.
amnot using
isnot going to rain
is coming/ is traveling/ am meeting.
* Homework: 
Do the exercises in the exercise book and prepare next part.
Work in groups.
Answer the questions
- Listen
- Pronounce the vocabularies.
- Scan the information.
- Work in pairs.
- Do the exercises.
-Answer the questions.
-Work in individual
- Present.
- Work in pairs
- Present.
-Listen and write down.
 pictures­ birdó
*PRONUCIATION:
 /¶/ /З:/ 
 teacher bird
 today early
 picture church
 ..........................
 *GRAMMAR:
 The present progressive: 
 (be) + V-ing
 Use: 
 the action is happening ( with some signals: now, right now , at the moment)
Ex: I'm writing my lesson right now.
 the future action with the arrangement of a person ( certainly happen)
Ex. Would you like to drink with metomorrow?
 Sorry, I have a plan. I am meeting Mary tomorrow.
 (be) going to + V(inf):
(be) going to + V(inf)
 The certain attention in the future.
Ex. I'm going to visit my mother tomorrow.
 the future action will happen like the thought.
Ex: Look at those black clounds. 
 It is going to rain.
Exercise 1: 
 1. are you doing 2.is getting married
 3.Are you going 4.am going to be 
 5.is going to
Exercise 2:
 1.are going 2.are having 3.is going to catch
4. are you putting 5. isnoy going to give
Exercise 3:
Are you going to see it/I'm doing my homework.
we are visiting our grand parents.
What's he going to do with it?/  he going to buy a new motorbike.
It's going to rain soon
I'm going to clean them later.
* More exercise:
Use the verb in the bracket with the present progressive and "be going to":
It's already 32°C . It (be) very hot today.
I(not/ use) the car this evening , so you can have it.
I think it ( not/ rain). The sky is very bright.
Sue (come) to see us tomorrow. She (travel) by train and her train arrives at 10:15. I (meet) her at the station.
*Homework: 
-Making 5 sentences using the present progressive and (be) going to.
- Do the exercises in the exercise book.
- Repair the next part in the text book
 Check – up:
 Date:
Unit 16: 
 TEST
Preparing date:
 Week: 36
Period: 105