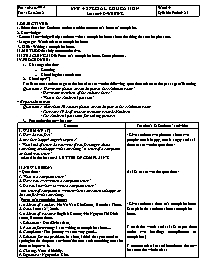 I. OBJECTIVES:
1. Education aim: Students understand the content of a letter of complaint.
2. Knowledge:
- General knowledge: Help students write a complaint letter about the thing that not be pleasure.
- Language: Words relate to complaint letter
 3. Skills: Writing a complaint letter.
II. METHOD: Mainly communicative.
III. TEACHING AIDS: Form of a complaint letter. Some pictures.
IV. PROCEDURE:
1. Class organization:
 Greeting
 Checking the attendance
2. Check up:(7')
T calls on one student to go to the board to answer the following questions relates to the passage of listening
 Questions: - How many photos are on display at the exhibition room?
 - How many members of the club are there?
 - What is the children's passion?
* Expected Answers
 Questions: - More than 50 colours photos are on display at the exhibition room
- There are 19 deaf, mute or mentally retarded children
- The children's passion is for talking pictures
Bạn đang xem tài liệu "Giáo án English 10 - Unit 4: Special Education - Lesson 4: D.Writing - Năm học 2012-2013", để tải tài liệu gốc về máy bạn click vào nút DOWNLOAD ở trên
Pre : 09.10.2012
Tea: 18.10.2012
UNIT 4: SPECIAL EDUCATION
Lesson 4: D/WRITING
Week: 9
Syllable Period: 25 
I. OBJECTIVES:
1. Education aim: Students understand the content of a letter of complaint.
2. Knowledge:
- General knowledge: Help students write a complaint letter about the thing that not be pleasure.
- Language: Words relate to complaint letter
 3. Skills: Writing a complaint letter.
II. METHOD: Mainly communicative.
III. TEACHING AIDS: Form of a complaint letter. Some pictures.
IV. PROCEDURE:
Class organization: 
Greeting 
Checking the attendance
Check up:(7')
T calls on one student to go to the board to answer the following questions relates to the passage of listening
 Questions: - How many photos are on display at the exhibition room?
	- How many members of the club are there?
	- What is the children's passion?
* Expected Answers
 Questions: - More than 50 colours photos are on display at the exhibition room
There are 19 deaf, mute or mentally retarded children
The children's passion is for talking pictures
Presenting the new lesson:
Contents
Teacher's & Students' activities 
I. WARM-UP (5')
1. How do you feel?
2. Are they happy/ angry/ surprise?
- What kind of letter do you write if you feel angry about something or unhappy with something? A letter of a complaint or thank-you letter?
Lead in the lesson: A LETTER OF COMPLAINT.
II. NEW LESSON: 
* Questions: 
1. What is a complain letter?
2. Have you ever written a complaint letter?
3. Do you know how to write a complain letter?
A letter of complaint is written when someone is unhappy or dissatisfied with something. 
* Form of a complaint letter:
1. Address of sender: 540 Vo Van Kiet Street, Buon Ma Thuot.
2. Date: June 12th, 2006.
3. Address of receiver: English Centre; 440 Nguyen Thi Dinh street, Buonmathuot.
4. Salutation: Dear Sir/Madam,
5. Reason for writing: I am writing to complaint about....
6. Complaints: The journey was not very good...
7. Solution for the problem: In short, I think that you need to apologize for the poor service of the tour and something must be done to improve it.
8. Closing: Your faithfully.
9. Signature: Nguyen Le Kiet.
- native teacher (n): a teacher who comes from England
- air-conditioned (a): (translation)
Tasks 1: (10')
* Expected Answers
1. I am not happy with it at all
2. not all of them are native teachers
3. That is not true. My class has over 30 students
4. I had to pay for them
5. Only some of them. Mine is not
6. in fact classes often start late and finish early
Task 2: (20')
* Expected Answers:
First of all, You say that there are only native teachers, but my class has one Vietnamese teacher and two native teachers. You also say that each class has no more than 20 students but there are over 30 students in my class. In the advertisement, you say we can have books and cassette tapes free of charge but in fact we had to pay for them. To make the matter worse, the class room is not air-conditioned. That is quite different from the advertisement. Finally, what I do not like most about your centre is the time. The class time is not the same as what the advertisement says. Classes not only start late but also finish early
* Keys answers 2:
The quality of the course was not as high as we expected. There are about 40 students in the class, so it was difficult for us to practise. Sometimes we had to wait for half an hour because the room was not ready or the teacher arrived late. Sometimes we couldn't study because the classroom was very hot. Last week we had only one lesson on Monday. We expected to pay no further charges but we had to pay 60.000 dong for the books and cassettes. We complained to the teachers but they couldn't do anything about it.
Homework (2')
- Give students two pictures about two people- one is happy, one is angry and ask them to answer the questions:
Ask Ss to answer the questions:
- Give students a form of a complaint letter & explain for students about a complaint letter.
T reads the words and asks Ss to put them under two headings (compliments or complaints) 
T corrects mistakes and introduces the new lesson to the whole class
T explains the meanings of some new words
T explains the request of the task 1 and asks Ss to work in pairs to complete the dialogue
T goes around the class and gives help if necessary
T calls on some Ss to read and explain their answers
T corrects mistakes if necessary
T asks Ss to practice playing roles the dialogue in task
T selects some pairs at random to play roles in front of the class
T asks Ss to read the letter of complaint individually and complete it basing on the dialogue in task 1
T asks Ss to exchange their writings with a friend
T picks out some writings at random and corrects mistakes in front of the class
T asks Ss to complete their writings and prepare the next lesson

Tài liệu đính kèm:
D.Writing.doc