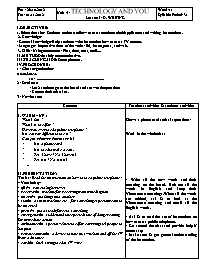 I. OBJECTIVES:
1. Education aim: Students understand how to use some household appliances and writing instructions.
 2. Knowledge:
- General knowledge: Help students write instruction how to use a TV remote.
- Language: Imperative form of the verbs: lift, insert, press, and wait.
 3. Skills: Using connectors: First, then, next, until.
II. METHOD: Mainly communicative.
III. TEACHING AIDS: Some pictures.
IV. PROCEDURE:
1 / Class organization:
Attendance:
10 : .
2 / Oral test:
 - Let 2 students go to the board and answer the questions
 - Correct their mistakes.
Bạn đang xem tài liệu "Giáo án English 10 - Unit 5: Technology And You - Lesson 5: D.Writing - Năm học 2012-2013", để tải tài liệu gốc về máy bạn click vào nút DOWNLOAD ở trên
Pre : 26.10.2012
Tea: 01.11.2012
Unit 5 : TECHNOLOGY AND YOU
Lesson 5 : D. WRITING
Week: 11
Syllable Period: 31
I. OBJECTIVES:
1. Education aim: Students understand how to use some household appliances and writing instructions.
 2. Knowledge:
- General knowledge: Help students write instruction how to use a TV remote.
- Language: Imperative form of the verbs: lift, insert, press, and wait.
 3. Skills: Using connectors: First, then, next, until....
II. METHOD: Mainly communicative.
III. TEACHING AIDS: Some pictures.
IV. PROCEDURE:
1 / Class organization: 
Attendance: 
10 : ...................................................................
2 / Oral test: 
	 - Let 2 students go to the board and answer the questions
	 - Correct their mistakes. 
3 / New lesson:
Contents
Teacher/s activities & students/ activities
I. WARM – UP :
+ What's this ?
+ What's it used for ?
+ Have you ever used a public telephone ?
+ It is easy or difficult to use it ?
+ Can you show me how to use it ?
It is a phone card 
It is used to make a call .
Yes , I have / No, I haven't
Yes, it is / No, it isn't
..
II. PRESENTATION :
Task 1: Read the instructions on how to use a public telephone :
* Vocabulary:
- lift (v): raise to higher level
- receiver (n): machine for receiving transmitted signals
- insert (v): put things into another
- slot (n): a slit in machine etc for something especially coin to be inserted
- press (v): put a steady force to something
- emergency (n): sudden and unexpected state of danger calling for immediate action
- ambulance (n): special vehicle used for carrying sick people to hospital
- remote control (n): a device to tune in. switch on and off the TV from a distance
- cord (n): thick string used as TV wire
Task 2 - Finding Connectors and Imperatives
- Connectors: first, next, then, until.
- Imperatives: lift, insert, press, wait
III. PRACTICE :
Task 3- Answering Questions
* Feedback and give correct answers:
1. If you want to operate the TV with the remote control, you have to make sure that the cord is plugged in and the main is turned on. 
2. To turn on the TV, press the POWER button. To turn off the TV, press the POWER button again.
3. To select a progamme, press the PROGRAMME button.
4. To watch VTV1, press button number 1 to watch VTV2, press button number 2 To watch VTV3, press button number 3 To watch VTV 4, press button number 4
5. To adjust the volume, press the VOLUME button up or down.
6. If you don't want to hear the sound, press the MUTE button. 
Task 4 - Writing Instructions.
* Suggested answers:
If you want to operate a TV with a remote control, you must make sure that the cord is plugged in and the main is turned on.
To watch VTV1, press button number 1
To watch VTV2, press button number 2
To watch VTV3, press button number 3
To watch VTV4, press button number 4
To adjust the volume, press the VOLUME button up or down.
If you don't want to hear the sound, press the MUTE button.
IV. FURTHER PRACTICE:
Shows a phone card and asks questions :
Work in the whole class
- Write all the new words and their meaning on the board. Rub out all the words in English and keep their Vietnamese meanings. When all the words are rubbed, ask Ss to look at the Vietnamese meaning and recall all the English words.
- Ask Ss to read the set of instructions on how to use a public telephone.
- Go around the class and provide help if necessary.
- Make sure Ss get general understanding of the instruction.
- Tell Ss to work in pair to find out the connectors and the imperative forms of the verbs from the instructions.
- Call on some Ss to read their answers aloud in front of the class.
- Feedback give correct answers:
- Notice Ss that connectors and imperatives are used in instructions.
- Ask Ss to work in groups: Look at the TV and the remote control and answer the question on how to operate the TV.
- Tell Ss look at the remote control carefully when doing the task.
- Call on some Ss from the group to answer the questions in front of the class.
- Feedback and give correct answers:
- Ask Ss to write a set of instructions on how to operate a TV with a remote control. Use the picture in the book and answers above as suggestions.
- Tell Ss to compare their writing with a friend.
- Pick up some writing and correct in front of class as a whole.
- Call on some Ss to read the writing aloud in front of the class
- Ask some Ss to comment on presenters' performance.
- Make necessary corrections.
4 . Consolidation: Summaries the main points.
5 . Homework: Assign homework

Tài liệu đính kèm:
D.Writing.doc