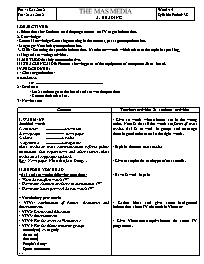 I. OBJECTIVES:
1. Education aim: Students read the programmers on TV to get information.
2. Knowledge:
- General knowledge: Guessing meaning in the context, passage comprehension.
- Language: Vocabulary comprehension.
 3. Skills: Scanning for specific information. Use the new words which relate to the topic in speaking, asking and answering activities.
II. METHOD: Mainly communicative.
III. TEACHING AIDS: Pictures showing parts of the equipment of computers. Extra board.
IV. PROCEDURE:
1 / Class organization :
Attendance:
10: .
2 / Oral test:
 - Let 2 students go to the board and answer the questions
 - Correct their mistakes.
Bạn đang xem tài liệu "Giáo án English 10 - Unit 7: The Mas Media - A.Reading - Năm học 2012-2013", để tải tài liệu gốc về máy bạn click vào nút DOWNLOAD ở trên
Pre : 18.11.2012
Tea: 21.11.2012
THE MAS MEDIA
READING
Week: 14
Syllable Period: 38 
I. OBJECTIVES:
1. Education aim: Students read the programmers on TV to get information.
2. Knowledge:
- General knowledge: Guessing meaning in the context, passage comprehension.
- Language: Vocabulary comprehension.
 3. Skills: Scanning for specific information. Use the new words which relate to the topic in speaking, asking and answering activities.
II. METHOD: Mainly communicative.
III. TEACHING AIDS: Pictures showing parts of the equipment of computers. Extra board.
IV. PROCEDURE:
1 / Class organization : 
Attendance: 
10: ...................................................................
2 / Oral test: 
	 - Let 2 students go to the board and answer the questions
	 - Correct their mistakes. 
3 / New lesson:
Contents
Teacher/s activities & students/ activities
I. WARM- UP
Jumbled words
1. enslietov television
2. rwepeapns newspaper
3. idora radio
4. agenmiza magazine
Mass media or mass communications refer to public institutions that report news and other stories. Mass media also keep people updated.
E.g: Newspaper: Nhan dan, Lao Dong
II. BEFORE YOU READ
*Ask and answer the following questions:
- When do you often watch TV?
- How many channels are there in our national TV?
- How many hours per week do you watch TV?
* Vocabulary pre- teach:
- VTV1: combination of Politics, Economics and Entertainment.
- VTV2: Science and Education
- VTV3: Entertainment
- VTV4: For the overseas Vietnamese
- VTV5: For the Ethnic minority groups
+ comedy (n) >< tragedy
+ drama (n)
+ theatre (n)
+ People's Army:
+ Sports comments
III. WHILE YOU READ
Task 1: Match the words in A which appear in the reading passage with their definitions in B.
Answers:
1. c 2. a 3. d 4. b
Task 2- True or false
Answers:
1. T 2. T 3. F 4. T 5. F
Task 3- Answering Questions
Answers:
1. There are five films on
2. At 9:00 a.m., 12:00 at noon, 7:00 p.m., 11 p.m. on VTV1 and 7:00 p.m. on VTV3
3. VTV2
4. The Quiz Show
5. ( You should watch)VTV1
6. The Football
IV. AFTER YOU READ
- Give 10 words whose letters are in the wrong order. Note Ss that all the words are forms of mass media. Ask Ss to work in groups and rearrange them in good order to make the right words.
- Explain the term mass media
- Give examples for each type of mass media.
- Have Ss work in pairs
- Gather ideas and give some background information about TV channels in Vietnam:
- Give Vietnamese equivalences for some TV progammes.
- Ask Ss to read three TV programme schedules and do
-Have Ss compare and discuss their answers with a friend. 
- Further explains and give correct answers:
- Tell Ss to read the programmes carefully and decide whether the statements are true (T) or false (F). Correct the false information.
- Ask Ss to explain their answers by giving evidence in the reading passage.
- Check the answers in front of the class as a whole.
- Give correct answers:
- Ask Ss to work in pair and ask and answer the questions in the book basing on the information in the reading passage.
- Call on some pairs to ask and answer in front of the class.
- Feedback and give correct answers:
- Keep Ss in pairs and ask them to tell their partner about one of the TV programmes they like watching best and explain why.
- Call on some Ss to give short talks on the given topic.
- Give suggested answers
4. Consolidation: Summaries the main points.
5. Homework: Assign homework

Tài liệu đính kèm:
A.Reading.doc