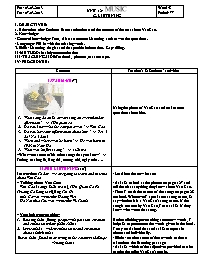 I. OBJECTIVES:
1. Education aim: Students listen and understand the content of the text about Van Cao.
2. Knowledge:
- General knowledge: True, false statements. Listening and answer the questions.
- Language: Fill in with the missing words.
3. Skills: Listening for gist and for specific information. Gap- filling.
II/ METHOD: Mainly communication
III/ TEACHING AIDS: Textbook, pictures, cassette tape.
IV/ PROCEDURE:
Pre : 03.03.2013
Tea: 07.03.2013
UNIT 12: MUSIC
C. LISTENING
Week: 8
Period: 77
I. OBJECTIVES:
1. Education aim: Students listen and understand the content of the text about Van Cao.
2. Knowledge:
- General knowledge: True, false statements. Listening and answer the questions.
- Language: Fill in with the missing words. 
3. Skills: Listening for gist and for specific information. Gap- filling.
II/ METHOD: Mainly communication 
III/ TEACHING AIDS: Textbook, pictures, cassette tape.
IV/ PROCEDURE:
Contents
Teacher's & Students' activities 
I. WARM-UP: (7')
What song do all Ss always sing on every Monday afternoon? -> Tiến quân ca 
Do you know who the composer was? ->Van Cao
Do you have any information about him ? -> Yes, I do / No, I don't 
When and where was he born? -> He was born in 1923 in Nam Ha
What was his first song? -> suối mơ
*What were some of his other songs that you know? -> Trường ca sông lô, làng tôi , trương chi, ngày mùa .
Using the photo of Van Cao and make some questions about him.
II. PRE LISTENING: (10')
Instruction: To day , we are going to learn and listen to about Van Cao 
* Talking about Van Cao: 
+ Van Cao's songs: Suối mơ (1), Tiến Quân Ca (3), 
Trường Ca Sông lô (4),làng Tôi (5) 
+ tình Ca was written by Hoang Viet 
+ Ha Noi Mua Thu was written by Vu Thanh
* Vocabulary pre-teaching:
Rousing (ad)): filling people with passion, emotion and enthusiasm (làm phấn chấn ) 
Lyrical (ad;): widely enthusiastic and emotional about sth(trữ tình ) 
Rural (ad)): found in or living in the countryside (thuộc về nông thôn )
- Lead into the new lesson 
- Asks Ss to look at the picture on page 127 and tell the class anything they know about Van Cao. 
- Then T reads the names of the songs on page 128 out loud. Whenever T speaks out a song name, Ss say whether it is a Van Cao's song or not. If the song is not one by Van Cao, T can ask Ss if they know who wrote that song. 
Before eliciting/pre-teaching some new words, T helps Ss to pronounce the words given in the book. T may read aloud first and ask Ssto repeat in chorus and individually. 
- Elicits/ teaches some of these words or those taken from the listening passage: 
- Asks Ss which of the adjectives provided can be used to describe Van Cao's music.
III. WHILE LISTENING
Task 1: True/ False (8')
Instruction: You are going to listen to an interview in which Lan Huong, the interviewer, asks Quang Hung, a famous actor about Van Cao. Listen and deicde whether the statements are True or False. Put a tick (V) in the appropriate box. 
Answer:
F (The guest is Quang Hung) 
F (He likes some Vietnamese musicians) 
T
F (It was written in J 944) 
F (He always feels proud of his country when he hears the song)
Task 2: Answering questions (7')
Instruction: You are going to listen to the tape again to answer the questions. 
Answer:
It's "My Favourite Musician" 
Tien Quan Ca 
It's hard and solemn; it makes him feel great and proud of his country. 
Tapescript:
Lan Huong: Hello, I'm Lan Huong. Our programme is "My Favourite Musician". Now, our guest tonight is Quang Hung, the well-known actor. Welcome to the programme, Quang Hung. 
Quang Hung: Thanks, Lan Huong. 
Lan Huong: Now Quang Hung, can you tell us about the Vietnamese musician you like best, please? 
Quang Hung: Sure. Recently, there have been quite a few good musicians. Their songs are very popular and easy to listen to. 
Lan Huong: Do you like them? 
Quang Hung: Well, I do like some of them. But I think the best Vietnamese musician of all time is Van Cao. He's really my favourite musician. 
Lan Huong: Van Cao, the author of Ti-en-Quan Ca? 
Well, can you tell us why you like him? 
Quang Hung: He's a great musician. Just listen to Tien Quan Ca. Whenever I hear it, I want to stand up and sing out as loud as possible. It's hard and solemn. And I always feel proud of my country when I hear it. 
Lan Huong: That's true. It's very rousing. Do you know when he wrote it? 
Quang Hung: In 1944. 
Lan Huong: Do you like any other songs by Van Cao? 
Quang Hung: Oh, yes, lots of them. Especially the songs about rural life in Vietnam. They are sweet and gentle and very lyrical. 
Lan Huong: Well; let me see ifwe can play one of the songs for you ...
Before Ss listen and do the task, T instructs them to use some strategies:
+ First, read through the statements to understand them and underline key words. For example, the key words in the first statement are: guest of the show, Lan ... 
+ Listen to the tape and pay attention to the key words. + Decide whether the statements are true or false based on what they can hear.
Plays the tape once for Ss to do the task. 
- Asks for Ss' answers and writes them on the board. 
- Plays the tape the second time for Ss to check their answers. 
-Asks Ss to work in groups of 4 to compare their answers. 
- Checks Ss' answers by calling on some Ss to give 
and explain their answers. 
- If a lot of Ss have the same wrong answer, play that point of the tape for Ss to check the answer again. 
- Before Ss listen and do the task, Tasks Ss what the strategies to do the task are. If Ss forget, T may repeat the strategies:
Asks Ss whether they can do the task based on the previous times of listening. 
- If Ss can, T asks them to give the answers and write them on the board. 
- Plays the tape once for Ss to check their answers. 
- Asks Ss to work in pairs to compare their answers. 
- Checks Ss' answers by calling on some Ss and asks them to explain their answers. 
- If a lot of Ss have the same wrong answer, play that point of the tape for Ss to check the answer again. 
+ First, read through the statements to understand them and underline key words. For example, the key words in the first statement are: what, name, radio programme. 
+ Listen to the tape and pay attention to the key words. 
+ Write down the answers. 
IV. POST LISTENING :(10')
Find someone who ...
* Answer: 
What does Quang Hung think about Van Cao?
What does QH do when he listen to Tien Quan Ca?
What does QH think about Van Cao's other songs?
Do you agree or disagree with him?
Asks Ss to discuss Quang Hung's ideas about Van Cao's musician in groups by answering some questions.
Goes around the class and helps Ss if need, then corrects.
HOMEWORK : (3')
Guides Ss to write the short passage about VanCao's music (50 words )