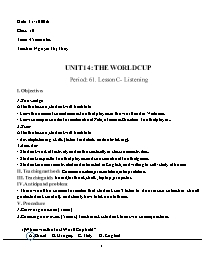 I. Objectives
1. Knowledge
After the lesson, students will be able to
- know the name of some famous football players in the world and in Vietnam.
- know some personal information about Pele, a famous Brazilian football player.
2. Skills
After the lesson, students will be able to
- develop listening skills (listen for details and note-taking).
3. Attitudes
- Students work effectively and enthusiastically in classroom activities.
- Students respect to football players and concern about football game.
- Students are more motivated and interested in English, and willing to self-study at home.
Bạn đang xem tài liệu "Giáo án English 10 - Unit 14: The world cup - Period 61: Lesson C-Listening - Nguyễn Thị Thúy - Năm học 2016-2017", để tải tài liệu gốc về máy bạn click vào nút DOWNLOAD ở trên
Date: 31/10/2016
Class: 10
Time: 45 minutes
Teacher: Nguyễn Thị Thuý
UNIT 14: THE WORLD CUP
Period: 61. Lesson C- Listening
I. Objectives 
1. Knowledge
After the lesson, students will be able to
- know the name of some famous football players in the world and in Vietnam.
- know some personal information about Pele, a famous Brazilian football player..
2. Skills
After the lesson, students will be able to
- develop listening skills (listen for details and note-taking).
3. Attitudes
- Students work effectively and enthusiastically in classroom activities.
- Students respect to football players and concern about football game.
- Students are more motivated and interested in English, and willing to self-study at home.
II. Teaching methods: Communication, presentation, interpretation.
III. Teaching aids: board, textbook, chalk, laptop, projector.
IV. Anticipated problem: 
- There would be some information that students can't listen to do exercise so teacher should guide students carefully and clearly how to take note them.
V. Procedure
1. Class organization (1 min)
2. Checking homework (5 mins) Teacher asks students to answer some questions
 1)Where was the first World Cup held?
A. Brazil B. Uruguay C. Italy D. England
 2) When was the second World Cup held?
 A. 1930 B. 1934 C. 1938 D. 1950
 3) Which team became the champion in the fifth World Cup?
 A. Hungary B. Sweden C. Brazil D. West Germany
 4) What was the score of the match?
 A. 4-2 B. 1-0 C. 3-2 D. 2-0
 5) What was the runner-up of the nineth World Cup?
 A. Brazil B. France C. Italy D. Germany
- Check and give remarks
3. New lesson 
Stage /Time
Teacher's activities
Students' activities
1.Warm up 
(5 minutes)
2. Pre- listening
(10 minutes)
3.While- listening 
( 15 minutes)
4.Post- listening
(6 minutes)
- Let students play game: Who is who?
+ Devide class into 2 groups
+ Give some photos of football player in the world and in Vietnam, then ask students: 
1. Who is in the photo?
2. Which sport do they play/ take up?
+ Which group give more correct answer will be the winner.
- Ask students to guess the name of the lesson.
- Ask students to work in groups of 4 and discuss the football players in the pictures.
- Ask students to talk about the football player they like best and explain why.
- Listen give remarks.
- Introduce some new words by pictures and examples:
goal-scorer (n): người ghi bàn
hero (n) : anh hùng 
ambassador/æm'bæsədə/ (n): đại sứ 
Brazil (n): nước Brazil 
retirement (n): sự nghỉ hưu
promote (v): thúc đẩy 
- Read the words and ask students to repeat.
- Ask students to practise reading
individually.
- Call some students to read the words again.
- Check student's understanding about the new words by speak out the word and student call out the word's meaning or in turn.
Task 1:
- Tell students that they are going to listen to a talk about Pele.
- Ask students to look at the table in the textbook and guess the information they should fill in the blanks.
- Ask students to listen to the recording twice and take short notes to fill in the table.
- Ask students compare their answers in pairs.
- Ask some students to report the answers
 - Play the recording once again and check the answers. 
Task 2:
- Ask students to read the questions and make sure they understand the questions.
- Ask students to listen to the recording twice and take short notes to answer the questions.
- Ask students to compare their answers in pairs.
- Let students play game : 
"LUCKY FOOTBALL PLAYER"
+ Devide class into 2 group
+ Guide students the game's rule 
- Play the recording again, stop when necessary and check the answers.
- Ask students to work in pairs and use the information in the table in task 1 and the answers in task 2 to talk about impotant events in Pele's life by using the past tense.
- Move around to control the class and help students if necessary.
- Ask 2 students give presentation in front of the class.
- Listen and give remarks.
Look at the screen.
Answer the question of teacher.
- Work in group and discuss. 
- Give the answer orally, other students listen.
1. Pele 2. Maradona 3. Zidane
4. Bathez 5. Beckham
- Copy down all the words in the notebook.
- Listen and repeat.
- Practice reading these words individually.
- Some students read these words again aloud.
- Guess the needed information .
- Listen and fill in the table.
- Work in pairs.
- Report the answers.
- Listen and self- correct the exercise.
Key
Year
Events
(1) 1940
Born in Brazil
1956
(2) joined a Brazilian football club 
(3) 1962
First world cup championship
(4) 1974
1200th goal
1977
(5) retired
-Read the questions carefully and guess the information required.
- Listen and answer the questions.
- Compare the answers with their partner.
- Play game
Key
1. As a football player, Pele was famous for his skill in kicking and controlling the ball.
2. He participated in three World Cup.
3. He played for an American football club before he retired.
4. He became an international emnassador for sports, working to promote peace and understanding through friendly sports activities.
- Work in pairs and talk about Pele's life.
- Some students present.
4. Consolidation (1 min)
- Vocabulary about football player
- Use listen for details skill to do some tasks
- Give presentation about Pele's life.
5. Homework (2 mins)
 Teacher ask students to write a paragraph of about 120 words about Pele's life.
VI. Comment
Good points: 
Weak points: