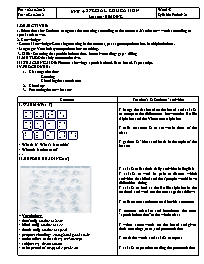 I. OBJECTIVES:
1. Education aim: Students can guess the meaning according to the contexts. Use the new words according to speak and answer.
2. Knowledge:
- General knowledge: Guessing meaning in the context, passage comprehension. Multiple choices.
- Language: Vocabulary comprehension: matching.
 3. Skills: Scanning for specific information. Intensive reading: gap - filling
II. METHOD: Mainly communicative.
III. TEACHING AIDS: Pictures showing a special school. Extra board. Tape script.
IV. PROCEDURE:
1. Class organization:
Greeting
Checking the attendance
2. Check up:
3. Presenting the new lesson:
Bạn đang xem tài liệu "Giáo án English 10 - Unit 4: Special Education - Lesson 1: Reading - Năm học 2012-2013", để tải tài liệu gốc về máy bạn click vào nút DOWNLOAD ở trên
Pre : 02.10.2012
Tea: 08.10.2012
UNIT 4: SPECIAL EDUCATION
Lesson 1: READING
Week: 8
Syllable Period: 21 
I. OBJECTIVES:
1. Education aim: Students can guess the meaning according to the contexts. Use the new words according to speak and answer.
2. Knowledge:
- General knowledge: Guessing meaning in the context, passage comprehension. Multiple choices.
- Language: Vocabulary comprehension: matching.
 3. Skills: Scanning for specific information. Intensive reading: gap - filling
II. METHOD: Mainly communicative.
III. TEACHING AIDS: Pictures showing a special school. Extra board. Tape script.
IV. PROCEDURE:
Class organization: 
Greeting 
Checking the attendance
Check up:
Presenting the new lesson:
Contents
Teacher's & Students' activities 
I. WARM-UP: ( 5')
- What is it? What's it used for?
- Where is it often used?
II. BEFORE READING (10')
* Vocabulary 
- deaf (adj) unable to hear
- blind (adj) unable to see
- dumb (adj) unable to speak
- proper schooling: enough and good study
- make effort to do sth (v) try/attempt 
- subject (v) (translation)
- to be proud of (exp) take pride on
III. WHILE READING: 
Task 1: Matching ( 10')
+ Disable [dis'eibl] (v)làm tàn tật
+ mentally retarded /ri'tɑ:did/ (adj) chậm phát triển trí tuệ 
+ time- consuming [kən'sju:miη] tốn nhiều thời gian
+ demonstration [,deməns'trei∫n](n sự thể hiện
+ proper ['prɔpə] (adj) thích hợp
* Expected Answers:
1. c
2. e
3.a
4. b
5. d
Task 2: Multiple Choice (10')
* Expected Answers:
1. D
2. B
3. A
4. C
5. D
IV. AFTER READING: (7')
* Expected Answers:
1. disabled
2. read
3. write
4. efforts
5. opposition
6. time-consuming
7. math
8. arms
9. fingers
10. proud
- oppose [ə'pouz](v) chống đối
HOMEWORK: (2')
* Read the text and answer the following questions:
1. What would happen to the disabled children if a special class was not organized for them?
2. Why couldn't the parents give their disabled children an education?
3. Why did the parents oppose the idea of sending their children to the special class at first?
4. In what way did Thuy teach the children how to add and subtract?
* Write a short passage about Thuy's special class. (about 100 words).
T hangs the flashcard on the board and asks Ss to compare the differences between the Braille Alphabet and the Vietnamese alphabet
T calls on some Ss to answer in front of the class
T gathers Ss' ideas and leads in the topic of the lesson
T asks Ss to list their daily activities in English
T asks Ss to work in pairs to discuss which activities that blind and deaf people would have difficulties doing
T asks Ss to look at the Braille alphabet in the textbook and work out the message that follows 
T calls on one student to read her/his sentence 
T corrects mistakes and introduces the term "special education" to the whole class
T writes some words on the board and gives their meanings, uses, and pronunciation 
T reads the words and asks Ss to repeat
T asks Ss to practice reading the pronunciation
T asks Ss to read the passage individually to match the words in A with their definitions in B
T asks Ss to compare their answers with their friends' 
T calls on some Ss to read and explain their answers in front of the class
T corrects mistakes if necessary 
T asks Ss to explain the meanings of the words and their definitions in Vietnamese 
T asks Ss to read the given terms and options in the textbook
T asks Ss to sit in pairs and complete the sentences by circling the corresponding letter A, B, C or D
T calls on Ss to read and explain their answers
T corrects mistakes if necessary
T asks Ss to sit in pairs and read the summary of the passage carefully
T encourages Ss to guess the missing words
T asks Ss to fill in the blanks
T calls on some Ss to read and explain the answers
T corrects mistakes if necessary
T calls on one or more Ss to read the complete summary in front of the class
T asks Ss to learn by heart all new words and do exercises (answer the questions)
T asks Ss to write a short passage about Thuy's special class. 
T asks Ss to prepare the next lesson

Tài liệu đính kèm:
A.Reading.doc