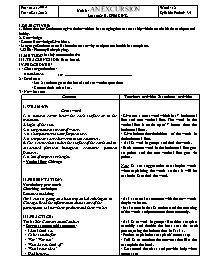 I. OBJECTIVES:
1. Education aim: Students can give their own ideas in arranging the seats on a ship which are suitable for each person's hobby.
2. Knowledge:
- General knowledge: Give ideas.
- Language: Students can talk about the reason why each person should sit at one place.
 3. Skills: Fluency. Role- playing.
II. METHOD: Mainly communicative.
III. TEACHING AIDS: Extra board.
IV. PROCEDURE:
1 / Class organization:
10: .
 Attendance:
2 / Oral test:
 - Let 2 students go to the board and answer the questions
 - Correct their mistakes.
Bạn đang xem tài liệu "Giáo án English 10 - Unit 6: An Excursion - Lesson 2: B.Speaking - Năm học 2012-2013", để tải tài liệu gốc về máy bạn click vào nút DOWNLOAD ở trên
Pre : 01.11.2012
Tea: 08.11.2012
Unit 6 : AN EXCURSION
Lesson 2: B. SPEAKING
Week: 12
Syllable Period: 34 
I. OBJECTIVES:
1. Education aim: Students can give their own ideas in arranging the seats on a ship which are suitable for each person's hobby.
2. Knowledge:
- General knowledge: Give ideas.
- Language: Students can talk about the reason why each person should sit at one place.
 3. Skills: Fluency. Role- playing.
II. METHOD: Mainly communicative.
III. TEACHING AIDS: Extra board.
IV. PROCEDURE:
1 / Class organization: 
10: ...................................................................
 Attendance: 
2 / Oral test: 
	 - Let 2 students go to the board and answer the questions
	 - Correct their mistakes. 
3 / New lesson:
Contents
Teacher/s activities & students/ activities
I. WRAM-UP:
Crossword
1. A natural cavity below the each surface or in the mountain.
2. Light of the sun.
3. A large natural stream of water.
4. A short journey usually for pleasure.
5. A temple or sacred tower in Asian countries.
6. The science that studies the surface of the earth and its associated physical, biological, economic, political features.
7. A hill of impressive height.
* Vertical line: Chicago
II. PRESENTATION:
Vocabulary pre- teach
Checking technique
Sentence modeling
Tim's class is going on a boat trip on Lake Michigan in Chicago. Read the information about some of the participants to know their problem and their wishes
III. PRACTICE:
Task 1&2- Conversation Conduct
* Suggest some useful structures:
 - I don't think so.
 - To be suitable for
 - Why? Why not?
 - What do you think of?
 - What's your idea?
 - Had better...
IV. FURTHER PRATICE:
Task 3- Giving Reasons
*Suggested answers
A: I think seat 1 is most suitable for Mary.
B: Why?
C: Because she suffers from travel sickness so she can get lots of fresh air from that seat.
D: Yes. Put her in seat 1. What about John?
A: I don't think so. John doesn't like air- conditioning so put him in seat 37. He can take as many photographs as he likes.
C: OK. I think Susan had better take the seat 10. What do you think?
B: I think it's a good idea because she wants to be near Many.
- Which seat do you think the most suitable for you? Why? Use information in Task 1 As suggestions.
- Give out a crossword which has 7 horizontal line and one vertical line. The word in the vertical line is made up of 7 letters from the horizontal lines.
- Give information/definition of the words in the horizontal line.
- Ask Ss work in groups and find the words.
- Each correct word in the horizontal line gets 10 points and the one vertical line gets 40 points.
Note: Ss are suggested to use simpler words when explaining the words so that it will be easier for Ss to find the word.
- Ask ss to make sentences with the new words they have learnt.
- Make certain that Ss understand the meaning of the words and pronounce them correctly.
- Ask Ss to work in groups: Read the seat plan carefully and decide the best seat for each person, using the information in Task 1.
- Further explain the seat plan if necessary.
- Tell Ss to conduct the conversation like the example in the book.
- Go around the class and provide help when necessary.
- Call on some groups to conduct the conversation in front of the class.
- Comment and give suggested answers:
- Tell Ss to work in pairs and discuss:
- Call on some Ss to talk about their seat preference in front of the class.
- Comment and make necessary corrections.
4 . Consolidation:
5 . Homework:
- Summaries the main points.
- Assign homework

Tài liệu đính kèm:
B.Speaking.doc