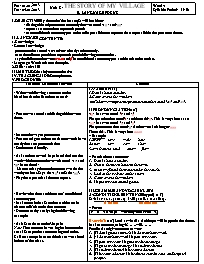 I. OBJECTIVES: By the end of the lesson, Ss will be able to:
- distinguish and pronounce correctly the two sounds /aʊ / and /əʊ/
- report a statement into reported speech.
- use conditional sentence type 1 to describe possible consequences that are possible in the present or future.
II. LANGUAGE CONTENTS:
1. Knowledge:
- General knowledge:
+ pronounce the sounds /aʊ/ and /əʊ/ clearly and correctly.
+ transform direct speech into reported speech following correct rules.
+ say the difference between when and if in conditional sentence type 1 and do related exercises.
- Language: Words relate to the topic.
2. Skills: sub-skills
III. METHOD: Mainly communicative.
IV. TEACHING AIDS: Some pictures.
V. PROCEDURE:
Bạn đang xem tài liệu "Giáo án English 10 - Unit 8: The story of my village - E.Language focus - Năm học 2012-2013", để tải tài liệu gốc về máy bạn click vào nút DOWNLOAD ở trên
Pre : 01.01.2013
Tea: 04.01.2013
Unit 8 : THE STORY OF MY VILLAGE
E. LANGUAGE FOCUS 
Week: 1
Syllable Period: 55-56 
I. OBJECTIVES: By the end of the lesson, Ss will be able to:
- distinguish and pronounce correctly the two sounds /aʊ / and /əʊ/
- report a statement into reported speech.
- use conditional sentence type 1 to describe possible consequences that are possible in the present or future.
II. LANGUAGE CONTENTS:
1. Knowledge:
- General knowledge:
+ pronounce the sounds /aʊ/ and /əʊ/ clearly and correctly. 
+ transform direct speech into reported speech following correct rules. 
+ say the difference between when and if in conditional sentence type 1 and do related exercises.
- Language: Words relate to the topic.
2. Skills: sub-skills 
III. METHOD: Mainly communicative.
IV. TEACHING AIDS: Some pictures.
V. PROCEDURE:
Teacher's & students' activities 
Contents
- Write two following sentences on the blackboard and call students to read:
- Present two sounds and distinguish between them.
- Instruct the way to pronounce
- Present and get students read some words have nearly the same pronunciation:
- Students read loudly.
- Ask students to work in pair and find out the words which content the vowel sound /aʊ/ and /əʊ/ in text book:
+ Listen and say the number one or two for the words you hear. Say 1 for /aʊ/ and 2 for /əʊ/.
- Play the tape and ask them to repeat.
- Reviews the form and the use of' conditional sentence type 1
- Makes certain that Ss understand the main clause and if clause in the sentence.
- Demonstrate by analysing the following example.
- Asks Ss to do exercise 3 in pairs
Note: The sentences have a logical connection so ask Ss to put the sentences in good order.
Calls on some pairs to read their answers aloud in front of the class.
-Tell Ss to work in pairs and do this exercise orally. 'Callson some Ss to explain their answers in front of the class. 
1) If the reporting verb is in the past tense (ex: said, told), it is usual for the verb in the reported clause to move "one tense back".
2) If the reporting verb is in the present tense (ex: says, tells), there is no tense change.
3) The one tense back rule also applies to reported thoughts and feelings. 
4) Typical pronoun, time, place and modal verb changes:
5) In formal situations, we can use that after the reporting verb. 
6) There are more than one reporting verb. We can use many other reporting verbs beside say and tell, for example, think, announce, explain, interrupt, demand, insist, admit, complain, warn.
- Asks Ss to do exercise 1 
- Asks them compare the answers with a friend.
- Checks the answers in front of the class as a whole. 
- Asks Ss to do exercise 2 
- Calls on some Ss to read their answers aloud in front of the class.
I. WARM UP: (5') 
1. Don't shout so loudly.
2. Come over to the window.
Today we will practise pronunciation the sounds /aʊ/ and /əʊ/.
II. PRONOUNCIATION: (10')
/aʊ/ has two sounds /a/ and /ʊ/
First practice the sound /a/ and then add /ʊ/. This is very short aaau 
/əʊ/ has two sounds /ə/ and /ʊ/ 
First pronounce the sound /ʊ/. And now make it longer: əəə 
Then add ʊ. This is very short əəəʊ
* Example:
1. drove love woke hole
2. snow low cow show
3. owl (con cú) loud allow flow
* Practise these sentences: 
Don't shout so loudly.
Ours is the nicest house in the town.
At last we found the mouse under the couch.
Look at the red rose on the snow.
Come over to the window.
I'll put my coat on and go out.
III. GRAMMAR AND VOCABULARY:
A/ CONDITIONAL SENTENCES (type I) (15')
Ex: If I have enough money, I will go to Hue for holiday. 
 If clause main clause
* Form: 
IF + S + V(s/es), S + will/may/must/can + V0
Exercise 3: (10') Look at what Ha Anh hopes will happen in the future. Makes sentences, using: If.will.
Feedback and give correct answers: 
If I don't go out so much, I'll do more homework.
If I do more homework, I'll pass my exam. 
If I pass my exam, I'll go to medical college. 
If I go to medical college, I'll study medicine. 
If I study medicine, I'll become a doctor. 
If I become a doctor, I'll be able to cure diseases and help sick people. 
Exercise 4: Put WHEN or IF into each gap. (8')
Make necessary comments and give correct answers:
1. if
2. when 
3. if
4. if
5. when 
B/ REPORTED SPEECH: statement (20')
+ Definition: Present the notes/rules in reported statements: 
Present 	past
Present perfect 	 past perfect
Past 	 past perfect
"tobe going to+ B.I" was/ were going to + B.I.
+ The train will be late--- > He says the train will be late. 
+ I thought she was married, but she isn't.
* Pronoun changes:
Direct speech
Reported speech
I
We
Mine
Me/you
Us
Ours
My
Our
myself
he/she
they
his/hers
him/ her
them
theirs
his/her
their
himself/herself
* Adverbs of time and place changes:
Direct speech
Reported speech
Time
place
Now
Two days ago
Today
Tonight
Tomorrow
Yesterday
Lastnight
Here
This place
These places
Then
Two days before
That day
That night
The next day
The night before
The night before
There
That place
Those places
* Modal verb changes :
Direct speech
Reported speech
Should
Might
must
Should
Might
Must/ ( had to)
Exercise 1: Report the statements using the verbs suggested. (10')
An old man said their lives had changed a lot thanks to the knowledge their children had brought home.
She said she was going to HCM City soon
I thought the film would be interesting.
She said she couldn't help me/you/ him/her ... because she had too much to do
Rick told me that Anne had written Jim a letter.
He told me it took him three hours to get there because the roads were muddy and slippery.
She said she thought it was a crazy idea and it wouldn't work. 
He announced that breakfast was served between 7:00 and 9:00.
Exercise 2: Complete the sentences with say, tell or talk. (10')
1. told
2. said
3. said
4. told
5 talked

Tài liệu đính kèm:
E.Language focus.doc