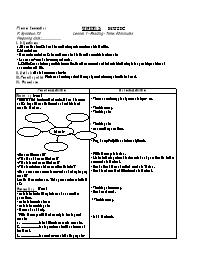 Theme: Recreation Unit 12: Music
P. Syllabus: 73 Lesson 1 - Reading - Time: 45 minutes.
Preparing date:.
I. Objectives:
1. Education aim: Students know the importance of music in the life.
2. Knowledge:
- General knowledge: Ss know the way to distinguish some kinds of music.
- Language: Vocabulary comprehension .
 3. Skills: Scanning for specific information. Use the new words which relate to the topic in speaking, asking and answering activities.
II. Method: Mainly communicative.
III. Teaching aids: Pictures showing parts of the equipments of computers. Extra board.
IV. Procedure:
Bạn đang xem tài liệu "Giáo án English 10 - Unit 12: Music - Lesson 1: Reading - Time 45'", để tải tài liệu gốc về máy bạn click vào nút DOWNLOAD ở trên
Theme: Recreation Unit 12: Music
P. Syllabus: 73 Lesson 1 - Reading - Time: 45 minutes.
Preparing date:......................
I. Objectives:
1. Education aim: Students know the importance of music in the life.. 
2. Knowledge:
- General knowledge: Ss know the way to distinguish some kinds of music..
- Language: Vocabulary comprehension .
 3. Skills: Scanning for specific information. Use the new words which relate to the topic in speaking, asking and answering activities.
II. Method: Mainly communicative.
III. Teaching aids: Pictures showing parts of the equipments of computers. Extra board.
IV. Procedure:
Teacher's Activities
Students' Activities
Warm up (4 mn)
- Aks students to close the books. Give a diagram ask Ss to put the suitable words about kinds of music in the box.
Music
+ Do you like music?
+ What band do you like best?
+ What singer do you like best?
+ What sort of music do you often listen to?
+ Can you name some singers or band who play pop music?
Lead in the new lesson. Today, we are learning Unit 12:
Pre-reading (7 mn)
- Ask sts to look at the picture and answer the questions.
- Ask sts to work alone.
- Ask sts to work in pair. 
- Go round and help.
* Fill in the gaps with the description to a type of music.
1. __________ is traditional songs of a country.
2. __________ is a type of music with a strong and loud beat.
3. __________ is a modern music that is popular with young people.
4. ..... 
While-reading (20 mn)
* New word:
- emotion [i'mou∫n](n) sự xúc cảm
- integral ['intigrəl](adj) không thể thiếu
- funeral ['fju:nərəl](adj) (thuộc) đám tang
- mournful ['mɔ:nful](adj) thê lương
- lull [lʌl] (v)ru ngủ
- senses [sens](n) giác quan
Task 1: (page: 125) 
* Fill in the gaps with suitable words in the box..
- Ask students to read alone.
- Ask sts to work in pair. 
- Read through the passage to get necessary information.
- Go round and help.
Task 2: (page 125 Text book)
- Ask students to answer the questions . Give the new words if necessary.
- Guide students to open the book and do exercise.
- Ask students to work in pair.
- Goes round and helps.
Post-reading (12 mn):
- Ask sts to work in group to read through the passage.
- Ask students to answer the questions.
- Homework: Read three above passages then sum up the main ideas.
- We can see trees, plants, mountains, caves.
- Work in group.
- Work in pair.
- Work in pair.
- Answer the questions.
- Pop, Jazz, Folk, Classical music, Rock. 
- Fill in the gaps in task 1.
- Listen to the tape (reading) carefully and pay attention to the new words in the text.
- Read silently the underlined words in Task 1.
- Read in chorus the difficult words in the text.
- Work in pair or group.
- Read each word.
*- Work in group.
- Individual work.
- Whole class.
- Individual work.
- The main ideas of the passage:
1. Music plays an important part in our life.
2. Music make human different from all other animals.
3. Music is a big business.
Comments (2 mn)
 Ngµy th¸ng n¨m 200
 	 Ký duyÖt cña TTCM
 Theme: Recreation Unit 12: Music
P. Syllabus: 74 Lesson 2 - Speaking - Time: 45 minutes.
Preparing date:......................
I. Objectives:
1. Education aim: Help students can talk about some kinds of music which they like, the reason why they like listening to them, when they listen to them, what singers or bands they like best.
2. Knowledge:
- General knowledge: Tell about the hobbies.
- Language: Giving opinion.
 3. Skills: Fluency .
II. Method: Mainly communicative.
III. Teaching aids: Extra board.
IV. Procedure:
Teacher's Activities
Students' Activities
Warm up(4 mn)
- Ask students to close the book and look at the blackboard.
Play the song" Show me the meaning of being lonely" of Backstreet boys band.
1. What song is it?
2. Who sing this song?
3. Do you like this boy band?
Give the picture of this boy band.
* Lead in the new lesson.
Pre-speaking (7 mn)
- Ask students to open their books and read the requirements carefully.
While-speaking (20 mn)
Activity 1 - Task 1 (page- 126)
- Ask Ss to read the passage about Ha Anh.
- Ask students to work in group.
- Explain the new words and structures and guide if necessary.
-Ask sts to work in pair.
New words:
- cheer SO up
- keep SO happy
- have the radio on
- be easy to listen
Activity 2 : Task 2 (Textbook - page 127)
- Ask sts to read the available sentences quickly.
- Give some new words.
- Ask students to work in group and offer some possible solutions.
- Go round and help- Give some new words to help them if necessary.
* Post speaking:
Activity 3: Task 3 (textbook - page 127)
- Ask sts to work in group to give opinion about what they did or did not do in the past.
- Some give ideas.
- Go round and help.
- Give the correct answers.
* Homework: Write a passage about your hobby about music.
- Answer :
+ We prepared food, drinks, tents, blankets, candles or noodles...
- Group work.
- Work in pair.
 Task 1.
- Ask and answer the uses of something:
Questions:
- Work in group .
- Pair work.
- Answer the questions.
- Some words and phrase about music:
+ rousing/ lyrical/ serene and peaceful/ pleasant.
+ help SO forget troubles.
+ make SO excited.
+ make SO fell relax.
- Pair work.
- Individual work.
- Whole class.
Comments (2 mn)
 Theme: Recreation Unit 12: Music
P. Syllabus: 75 Lesson 3 - Listening - Time: 45 minutes
Preparing date:......................
I. Objectives:
1. Education aim: Students listen and understand the content of the text about Van Cao.
2. Knowledge:
- General knowledge: True, false statements. Listening and answer the questions.
- Language: Fill in with the missing words. 
 3. Skills: Listening for gist and for specific information . Gap- filling.
II. Method: Mainly communicative.
III. Teaching aids: Tape script.
IV. Procedure:
Teacher's Activities
Students' Activities
Warm up(4 mn)
- Ask sts to close the book. Answer some questions:
+ What song do all students always sing every Monday morning?
+ Do you know who the composer was?
+ Do you have any information about him?
(When was he born? Where?/ Is he still alive? / When did he died?)
+ What was his first song?
- What do you see in the pictures?
- Lead to the new lesson.
Pre - listening : 
- Get students pay attention to the pronunciation of the new words which will appear in the listening task and their meaning.
+ Get Ss find out some names of Van Cao's songs?
While - Listening : 
Activity 1 (task 1 - page 128 - Text book)
- Give the situation and explain.
- Read 5 sentences and underlined the main words.
- Explain the new words.
- Make the situation and explain.
- Ask student to read through the information in the box.
- Present that these words will appear in the listening.
- Get sts listen for the 1st time.
- Get sts listen for the 2nd time.
- Ask sts to work alone then discuss the answers in pair.
- Check.
- Get sts listen for the 3rd time.
Activity 2: (Task 2 - page 128 -text book)
- Give the situation and explain.
- Listen and fill in the gaps.
- Get sts read through the text.
- Get sts listen for the 1st time.
- Check.
- Get sts listen for the 2nd time.
- Ask sts to work alone then discuss the answers in pair.
- Go round and help.
Post- Listening (12 mn): 
- Get Ss listen again then tick (v) the sentence they hear.
- Activity 4: Discuss Quang Hung's ideas about Van Cao's music. Give your home ideas.
Homework : Ask sts to write a passage which is about what they've ever heard.
- Whole class.
- Individual work.
- Whole class.
- Read the new words.
- Make sentences if necessary.
- Individual work.
- Read the statements carefully before listening the tape.
- Read and explain the answer in front of the class.
- Compare the answer with a friend.
- Feedback and give the correct answers.
- Listen and mark True or False.
- Individual work.
- Whole class.
Comments (2 mn)
 Theme: Recreation Unit 12: Music
P. Syllabus: 76 Lesson 4 - Writing - Time: 45 minutes
Preparing date:......................
I. Objectives:
I. Objectives:
1. Education aim: Students know the ways to write a profile.
2. Knowledge:
- General knowledge: Write about a person's life.
- Language: Words relate to a profile.
 3. Skills: Informal invitation.
II. Method: Mainly communicative.
III. Teaching aids: Some pictures.
IV. Procedure:
Teacher's Activities
Students' Activities
Warm up(4 mn)
- Ask sts close the book .
* Ask Ss to complete the following words to make a meaningful sentence:
+ Newton/ born/ December 25th, 1642/ the village Woolthorpe.
+ When/ young/ He/ more of a mechanic/ than scholar.
- Lead in the lesson. Wrting a profile.
1. Pre- Writing
Task 1: (page 129)
- Get sts to read the passage quickly. (3 minutes)
- Explain the aim of the task.
- Ask sts to read the letter in 3 minutes.
- Explain the new word and grammar.
- Ask sts to fill in the table in short.
- Check.
2. While-writing: Task 2 (page 129)
- Ask sts to write a passage about the whales according to the information in the tables.
- Ask sts to consult the passage in task 1.
- Give some new words.
- Get some groups hang their task on the black board.
- Get Ss read the exercise carefully before writing.
3. Post-writing:
- Ask students to work in group.
- Go round and help.
- Ask Ss to read aloud their own letter in front of the class.
* Homework : 
- Ask students to complete the letter according to their partners' ideas.
- Listen and answer.
- Would you like to go out for dinner this evening?
- Work in group of four.
- Listen and answer.
- Work in pair, discuss and answer.
* Write down.
- Group work.
- Write a short passage about the sea animals.
- Read out.
- Remark.
Comments (2 mn)
 Theme: Recreation Unit 12: Music
P. Syllabus: 77 Lesson 5 - Language Focus - Time: 45 minutes
Preparing date:......................
I. Objectives:
1. Education aim: Help students pronounce two sounds /s/ and /z/.
- Using to + infinitive.
2. Knowledge:
- General knowledge: To- infinitive. Wh-questions.
- Language: 
 3. Skills: .
II. Method: Mainly communicative.
III. Teaching aids: Some pictures.
IV. Procedure:
Teacher's Activities
Students' Activities
Warm up(4 mn)
- Present two sounds and distinguish between them.
- Which underlined part is pronounced differently?
1. peas zoo relax prize
2. Susan spring sad soft
3. fictions listens wish mission
4. missing jazz kiss massage
5. music finish option depression
Listen to me carefully and say wht sound you are going to learn today.
1. Pronunciation:
- Activity 1: Listen and repeat: (tape script)
 - Present and read aloud - Ask students to follow.
- Correct the mistakes if necessary. 
- Number 1, 2 for each sound.
- Present and get students read some words have nearly the same pronunciation:
- Activity 2: 
- Ask students to work in pair and find out the words which content the sound /s/ and /z/ in text book:
+ Listen and say the number one or two for the words you hear. Say 1 for /s/ and two for /z/.
* Grammar :
1. To + infinitive:
- To relax, Susan listens to jazz music.
ð Susan listens to jazz music to relax.
-Usage: To inf. dïng chØ môc ®Ých. ngoµi ra cßn cã c¸c côm tõ kh¸c nh­:
In order to/ so as to + inf. (Affirmative)
In order not to/ so as not to + inf. ( Negative)
She studied hard in order not to fail the exam.
- Activity 1 : Exercise 1( textbook - page 130) 
- Explain the aims of the exercise.
- Ask students to work in pair.
- Goes round and helps.
 - Ask students to go to the black board and correct the mistakes if necessary.
-- Correct students' mistakes.
- Activity 2: ( Exercise 2) ( textbook - page 131)
- Ask student work alone then work in pair.
*Wh-questions: 
Usage: Lµ lo¹i c©u hái ®­îc b¾t ®Çu b»ng: What/ When/ Why/ Who/ Whom/ Which...
( Exercise 3) ( textbook - page 131)
- Get students to read the example carefully before doing the exercise.
- Give some other examples.
- Ask students to work in pair.
- Goes round and helps.
- Call some good students to the blackboard to correct.
- Correct students' mistakes.
* Homework : 
- Students read.
 * 1. relax 2. Susan 3. listen 4. jazz 5. music
 To relax, Susan listens to jazz music.
- Discuss in group
- Distinguish between two sounds.
- Students to practise pronouncing these sounds .
- Read. Find out some more examples like these.
* Practise these sentences:
- Pair work
- Do Exercise 1
- Make situation: 
- Do Exercise 2.
- Group work.
- Check the results.
- Take note.
- Read the example carefully before doing the exercise.
- Work in pair.
Comments (2 mn)

Tài liệu đính kèm:
u12.doc